The Reservoir Fisheries Habitat Partnership (RFHP) and Friends of Reservoirs (FOR) are proud to announce the winners of the annual Friend of Reservoirs Award. The awards were presented at the awards banquet at the 9th annual RFHP meeting October 6 hosted by Texas Parks and Wildlife and held at the Texas Freshwater Fisheries Center in Athens, Texas. The award is a framed print by noted wildlife artist, Al Agnew.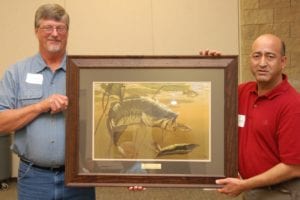 Mukhtaar Farooqi, right, accepts the Friend of Reservoirs Award for Marcos DeJesus of District Fisheries Management Biologist with Texas Parks and Wildlife Department (TPWD). Marcos has led habitat restoration efforts on several cental Texas impoundments, including Lake Buchanan, Canyon, and Austin. Marcos has been instrumental in expanding Friends of Reservoirs membership in his District. Marcos wrote and received a $20,000 grant on behalf of TPWD to install donated concrete pillars to add vertical structure to Lake Austin.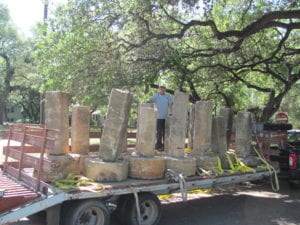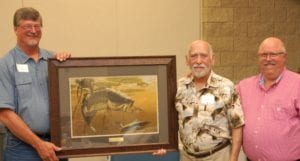 Carl Adkins, center, has been leading partnering efforts on habitat restoration at Canyon Reservoir, Texas for the past 15 years. Canyon Bass Club of San Marcos has been providing volunteer labor and materials to assist Texas Parks and Wildlife Department with cedar tree projects on Canyon.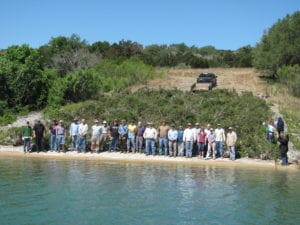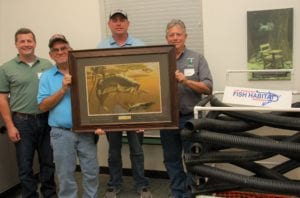 Chip Christensen, 2nd from left, owns Chip's Marine on Lake Shelbyville, IL and leads partnering efforts with Illinois Department of Natural Resources and the U.S. Army Corps of Engineers. Mike Mounce, IL DNR, was quoted as saying that when he went to Chip to discuss some habitat restoration ideas, Chip's response was "when do we get started." The partnering efforts have led to extensive habitat additions to Shelbyville and resulted in the Shelbyville project getting named to  National Fish Habitat Partnership's Ten Waters to Watch program in 2018.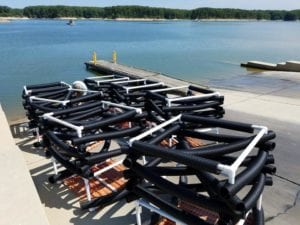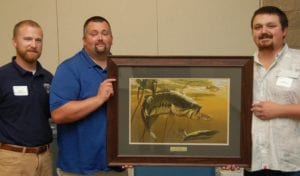 Don Kelly, Tioga Bass Club and the Tackle Shack, has worked tirelessly to restore habitat in northwest Pennsylvania reservoirs. Legislatively-directed dam repair projects have led to the need to draw down many aging reservoirs in PA. The Pennsylvania Fish and Boat Commission along with their partners have taken advantage of this opportunity to add habitat to an otherwise barren lake basin. Don was instrumental in securing a $75,000 grant from Shell Appalachia to restore habitat on Nessmuck Lake.