The First Annual Lake Shelbyville Fish Habitat Alliance Banquet was held at the Sullivan VFW on February 23, 2019 with 100% of the proceeds going to improve the fisheries and fish habitat in Lake Shelbyville! The doors opened at 5 P.M. with 290 supporters of the resource in attendance! The LSFHA was honored to have Terry Brown of Wired to Fish (www.wired2fish.com) and Mike McClelland, Illinois Department of Natural Resources (DNR) Chief of Fisheries as guest speakers along with retired IDNR Director Brent Manning in attendance.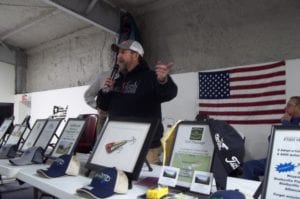 Terry Brown, Wired to Fish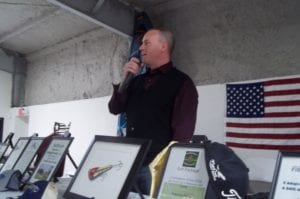 Mike McClelland, Chief of Fisheries, IL DNR
Led by emcee Richard Glazebrook, retired IDNR site superintendent for Eagle and Wolf Creek State Parks, there was plenty of fun for everyone! Raffles, games, silent auctions, a kids and women's table was topped off by a live auction led by retired auctioneer Bob Lamendola. Items included a Traeger grill, fishing kayaks, fishing rods, original artwork, Cardinal box seats, Little Theatre on the Square season tickets, a Motor Guide trolling motor, seven (!) guided fishing trips from crappie to muskie and much, much more!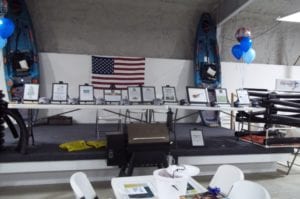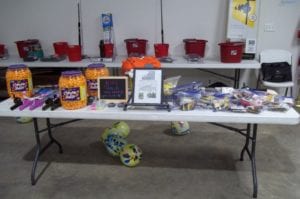 The reoccurring theme of the night was that 100% of the proceeds are going directly to fish habitat at Lake Shelbyville! The excitement of that reality was evident in the generosity, not only of the donors that provided prizes for the banquet, but also in the overwhelming support of the attendees. When the dust settled on a fun-filled evening a net profit of just over $20,000 was realized! The Lake Shelbyville Fish Habitat Alliance have taken on many projects to improve Lake Shelbyville's aquatic habitat for all species of fish over the last two years. These projects include building and placing over 400 Georgia and Shelbyville Cubes, 70 artificial stumps and assisting with aquatic plant establishment in Lake Shelbyville. The proceeds from the first ever Fish Habitat Alliance Banquet will go a long way towards continuing the great work the LSFHA is contributing to fish habitat at Lake Shelbyville.
Four Cube builds are scheduled this year with the goal of 250 more cubes and 125 stumps aimed at benefiting all species of fish. The first build is already behind us with 70 cubes and 40 stumps built on February 16, 2019 with 44 volunteers in attendance! These structures will be placed on March 16, 2019 during the annual Lake Shelbyville fish habitat day held out of Lone Point Recreation Area.
The group also assists Lake Shelbyville Corps of Engineers staff with the harvesting of walleye and muskie from nursery ponds for stocking into Lake Shelbyville and the transplanting of aquatic plants. The cubes and stumps have been extremely popular with fisherman. After each habitat build and placement, aerial maps along with the GPS coordinates of the structure are made available to the public for fishing. For more information contact Chip Christensen of Chip's Marine at (217) 728-2610 or visit the Lake Shelbyville Fish Habitat Alliance Facebook Page at https://www.facebook.com/fishlakeshelbyville/. The LSFHA would like to extend a big THANK YOU to all of the donors, speakers, sponsors, volunteers and attendees that helped make this banquet a huge success! We couldn't have done it without you!
The U.S. Army Corps of Engineers received a grant for $47,893 from the Reservoir Fisheries Habitat Partnership in 2018 to help support the Lake Shelbyville project. The project was named one of the National Fish Habitat Partnership's "Waters to Watch" in 2018