Birmingham, Ala. – Virginia B.A.S.S. Nation conservation director Joan Blankenship was presented with the Friends of Reservoirs Award at the recent B.A.S.S. Conservation Summit. The award recognized Joan for her years of dedication to projects on Claytor and Smith Mountain lakes where she has been successful in securing grants through B.A.S.S. Conservation and the Reservoir Fish Habitat Partnership. Receiving different grants in successive years allowed her and her team to build a comprehensive habitat program for the reservoirs.  The program focused on the culture and introduction of native aquatic vegetation but also included the installation of artificial habitat structures. The project began in 2015 when the Virginia B.A.S.S. Nation received a $5,000 Shimano/B.A.S.S. Youth Conservation Initiative grant to involve high school and community college students in the culture of eel grass (Vallisneria) that would later be transplanted into the reservoirs to improve fish habitat.  The schools set up greenhouses and nursery facilities and developed techniques to grow eel grass indoors.  The following year an additional $3,000 grant from the Aquatic Ecosystem Restoration Foundation (AERF) allowed the program to expand capacity.  That same year the team received a $2,500 product grant from Mossback Fish Habitat for installing artificial habitat structures in the reservoir. In 2019 a $5,000 grant from AFTCO pushed the project even further, involving Virginia Tech University with a goal of becoming the source for eel grass for reservoir and wetland restoration projects in the Mid-Atlantic region.  An additional $1,000 Friends of Reservoirs (FOR) Small Project grant in 2019 helped further that research.  Joan noted that partners were the key to their success and said that the $1,000 FOR grant was leveraged to produce $8,000 in funding and donations.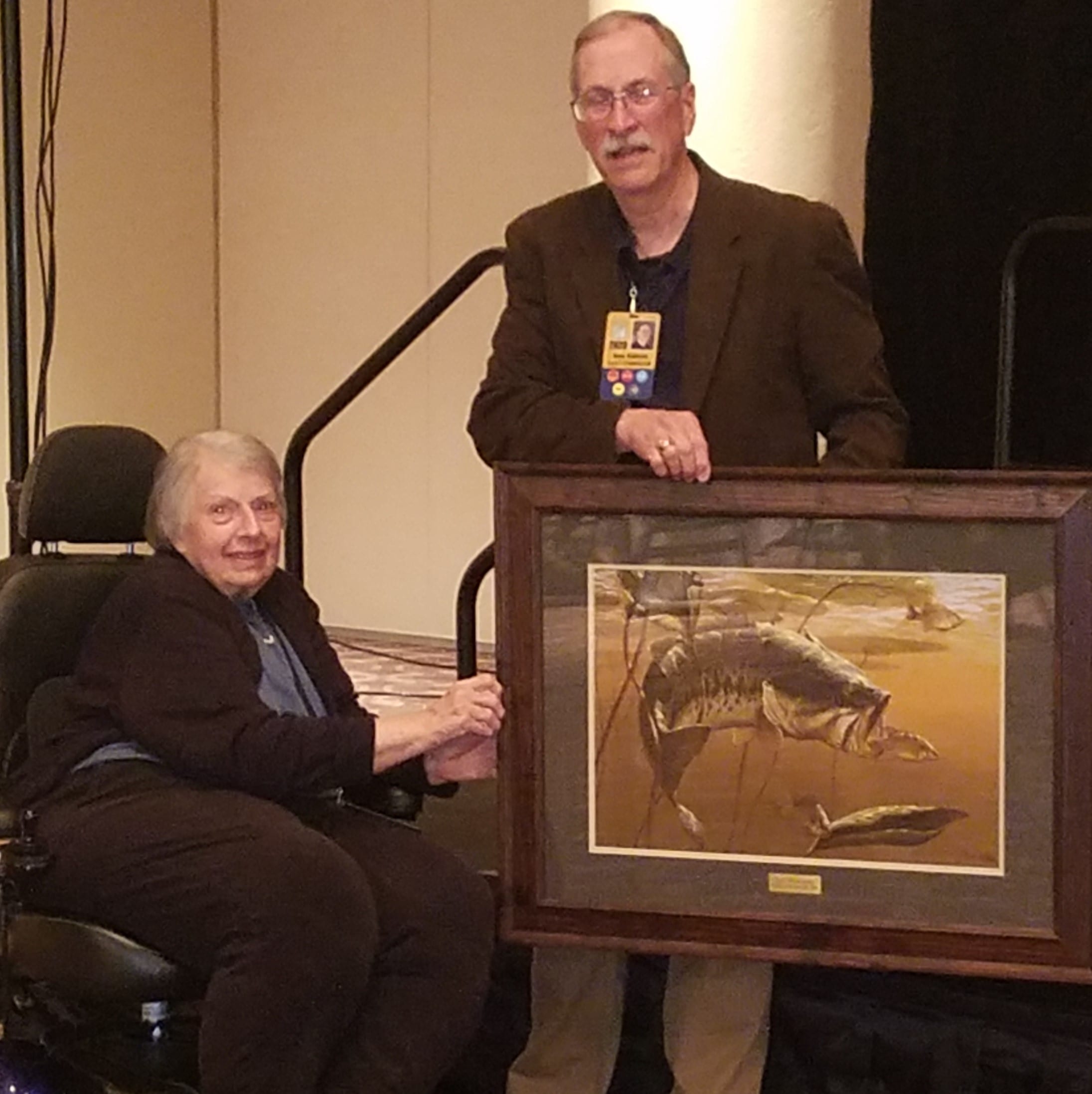 Joan assembled a team of partners that provided both financial and in-kind services toward the success of the project, including the Virginia Department of Game and Inland Fisheries, Virginia Tech University, Virginia B.A.S.S. Nation, Friends of Claytor Lake, New River Valley Conservancy, Henry County Cooperative Extension Service, Patrick Henry Community College, Appalachian Power, Claytor Lake State Park, Master Naturalists of Blacksburg, Virginia Dept. of Conservation & Recreation and Pulaski County.
"In the past several years I have seen conservation take on a new and more important role at B.A.S.S.," she told Conservation Summit attendees. "Having the Bassmaster Elite anglers more involved as spokesmen for conservation has been a real blessing and receiving these grants and the publicity they have received has really helped get the word out that we are actively involved in conservation."
Note: Gene Gilliland, B.A.S.S. Conservation Director and Reservoir Fisheries Habitat Partnership Executive Committee member, presents the award to Joan at the B.A.S.S. Conservation Summit, held in conjunction with the Bassmasters Classic. The "Friend of Reservoirs" award recognizes professional fisheries managers and members of the public who go above and beyond their assigned duties to facilitate reservoir habitat restoration projects. The print (Golden Moment) is donated by famed wildlife artist Al Agnew.