Status
Ongoing
Estimated Completion
2023
Location
Belton Reservoir, Texas
Friends Group
Cen-Tex Bass Hunters
Partners
Texas Anglers Bass Club, Texas B.A.S.S. Nation, U.S. Army Corps of Engineers, Brazos River Authority, Tin Cup Whiskey, Texas Parks and Wildlife Department, Bass Fishing Hall of Fame, Texas B.A.S.S. Nation Youth Angler Affiliates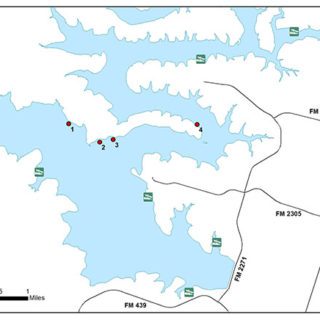 Belton Reservoir is a 12,385-acre impoundment located in Bell County, Texas. It was constructed in 1954 by the U.S. Army Corp of Engineers (USCOE) for purposes of flood control and municipal water supply. Lake Belton is a popular fishing destination in Central Texas and the reservoir is open to the public without discrimination. Fisheries are managed by the Texas Parks and Wildlife Department (TPWD).
Belton Reservoir lacks complex forms of fish cover. Woody types of habitats were limited at the time of impoundment. Furthermore, those habitats have slowly degraded because of natural reservoir aging processes.
Fluctuating water levels, steep topography, and hard rock substrate limit aquatic plant growth in the main body of this reservoir, which make large-scale native aquatic vegetation planting projects both difficult and impractical. In the past, the Centex Bass Hunters (CBH) has worked with other project partners (TPWD, USCOE, others) to establish native aquatic vegetation with little or no success.
In 2021, the CBH and Texas Anglers Bass  Club (TABC) joined forces with partners to begin the restoration of degraded structural fish habitat at Belton Reservoir.
See an overview of this work here: https://www.facebook.com/dave.terre/videos/435139564804661?idorvanity=282031628652457
This reservoir, like many lakes in our nation, is losing their structural fish habitat due to natural reservoir aging processes. Loss of this type of habitat has been identified as a major reservoir impairment in Texas and in other states. The CBH and TABC worked with the TPWD, the USCOE, and the Brazos River Authority (BRA) to create four new fish habitat sites. Grant funding for the first stage of the project (2021) were provided by Tin Cup Whiskey and the Brazos River Authority. In 2022, we're requesting additional funding from Friends of Reservoirs to continue this work in early 2023 to further enhance structural fish habitat at these same sites. FOR funding, if received, will be combined with grant funding already received in 2022 from the Bass Fishing Hall of Fame.
We plan to use artificial forms of habitat because of the long-term benefits they provide to fish populations and anglers. However, it is our desire, in the longer term, to add natural forms of woody cover (brush, trees, etc.), when those resources become available near the reservoir. We believe that this combination of habitats would add to structural habitat complexity and benefit both the reservoir and its fishery.
Our specific project objectives are to:
to improve structural fish habitats in Belton Reservoir while also enhancing angler fishing success in four areas of the reservoir, and
promote this partnership (between anglers, private industry, NGO's, Friends of Reservoirs, and state/federal governmental agencies) as a successful way to improve fish habitat and make fishing better across Texas.
Methods
Our methods would be to purchase or construct artificial fish habitats and deploy them in the reservoir at four previously established locations (see attached map). Labor and equipment will be provided by the TPWD, the USCOE, CBH, TABC and some Texas BASS Nation youth members. Facilities and worksites will be provided by the USCOE. Funding will be provided by the Bass Fishing Hall of Fame and Friends of Reservoirs (proposed).
As in the past, this project will be publicized using press releases, video news releases, and posted to various social media outlets. This will be a shared responsibility of all project partners but coordinated by the project coordinator to ensure that funder/sponsor requirements are met. Besides the costs of fish habitats, some incidental purchases (gas, food, water, supplies, equipment rentals, etc) may be necessary to complete the project, not to exceed 10% of the requested amount.
The expected outcomes would be to enhance/increase structural fish habitat (cover) available for fish and increase angler success at the reservoir. Another outcome would be to make our existing habitat sites larger, much more structurally complex, and easier to find/maintain in the future.
The TPWD does routine fish population and habitat surveys of this reservoir. As in 2021, we will rely on them to provide technical guidance, expertise, direction and evaluations of the success of this project. The TPWD is the managing state agency for fish and fish habitat.
Our work in 2021 was positively received by the public and is supported by the TPWD, based on their surveys. Routine surveys show good angler and fish use of these new habitat sites. The TPWD is pleased for us to continue this work into the future for the improvement of this valued fishery (see letter of support).
Outreach and Education
The project coordinator will work with all project partners and TPWD to publicize our work in press releases, partner websites, partner newsletters, fishing forums, partner social media platforms and written/on-line publications. Coordinates for the improved habitat sites will be updated and posted on the TPWD website for use by the general public.
We know that good publicity encourages interest in new projects and additional volunteers to support habitat improvement objectives in other areas.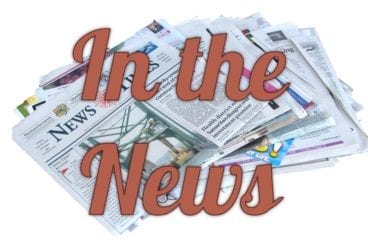 Anglers have more spots to search for the perfect catch at Belton Lake thanks to some recently installed artificial reefs and habitat structures. The Texas Parks and Wildlife Department (TPWD) […]
Donate Today
to support similar habitat projects