Status
Ongoing
Estimated Completion
12/31/2021
Location
Lake Shelbyville, Illinois
Grants Received
2018-$47,000; 2020-$30,000
Total Budget
$500,000
Friends Group
Lake Shelbyville Fish Habitat Alliance
Partners
Heartland Hookers Bass Club, Lake Shelbyville Muskie Club, Central Illinois Sportsmen for Outdoors Accessibility, Central Illinois Crappie Club, City of Shelbyville, Martin "Chip" Christenson (individual), Illinois Muskie Tournament Trail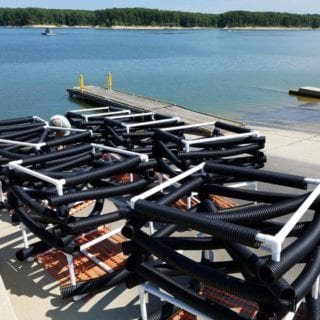 Lake Shelbyville has been impounded for nearly 50 years has lost a significant portion of its' woody structure to the natural aging process.  Fluctuating water levels have eroded shorelines resulting in shallow mud-bottom littoral areas. Long-duration floods, on occasion in excess of 12', have made conditions difficult for aquatic vegetation to establish. This lack of habitat and associated erosion and reduced water quality are negatively affecting the quality of the fishery and habitat restoration efforts have not kept up with losses. Standard management practices help maintain the quality of the fishery, but the standard reduction in quality with reservoir age continues with rippling economic effects throughout the community and region.
The Lake Shelbyville Fish Habitat Alliance (LSFHA) is a coalition of user-groups that include anglers, local communities and businesses that work with the U.S. Army Corps of Engineers and Illinois Department of Natural Resources to address the habitat impairments on Shelbyville. LSFHA has been building artificial structures (locally named Shelbyville Cubes) to replace the degraded woody structure so important as fish habitat and targeted structures by anglers. More than 1000 of these structures have been built and installed over the past 3 years (2018-2020). Click on the link to see dimensions and materials. Check out the videos that provide an excellent overview of the Shelbyville Fish Habitat Alliance's restoration efforts. Video 1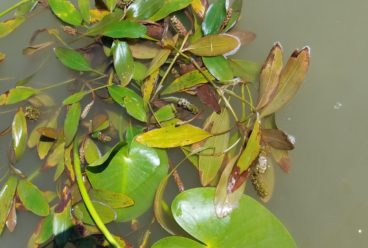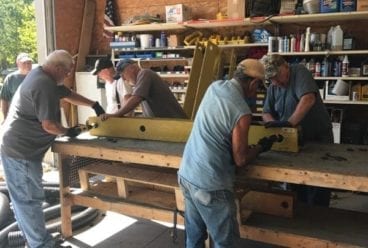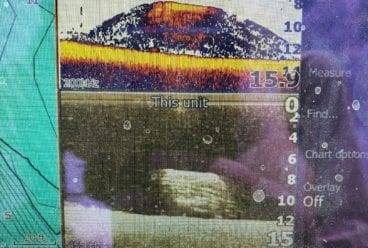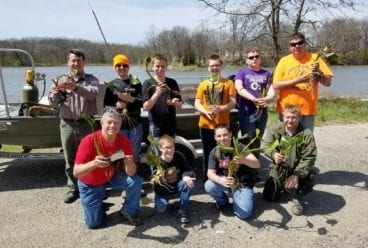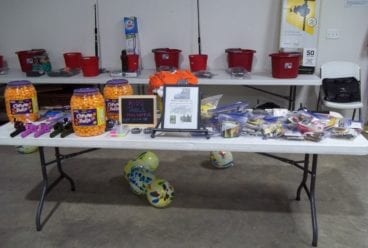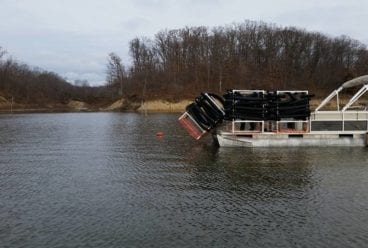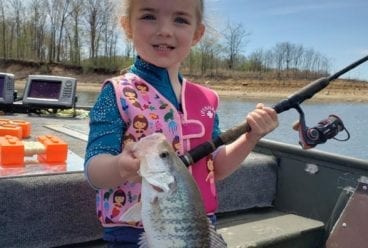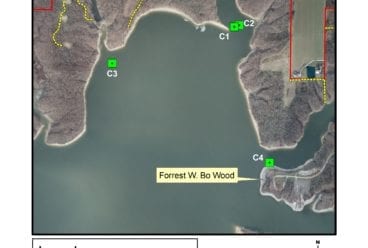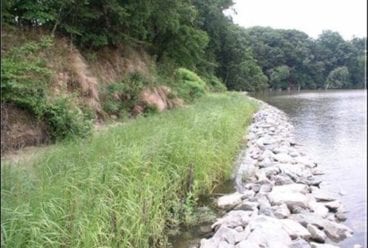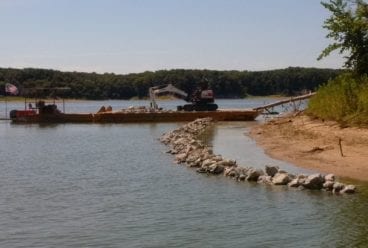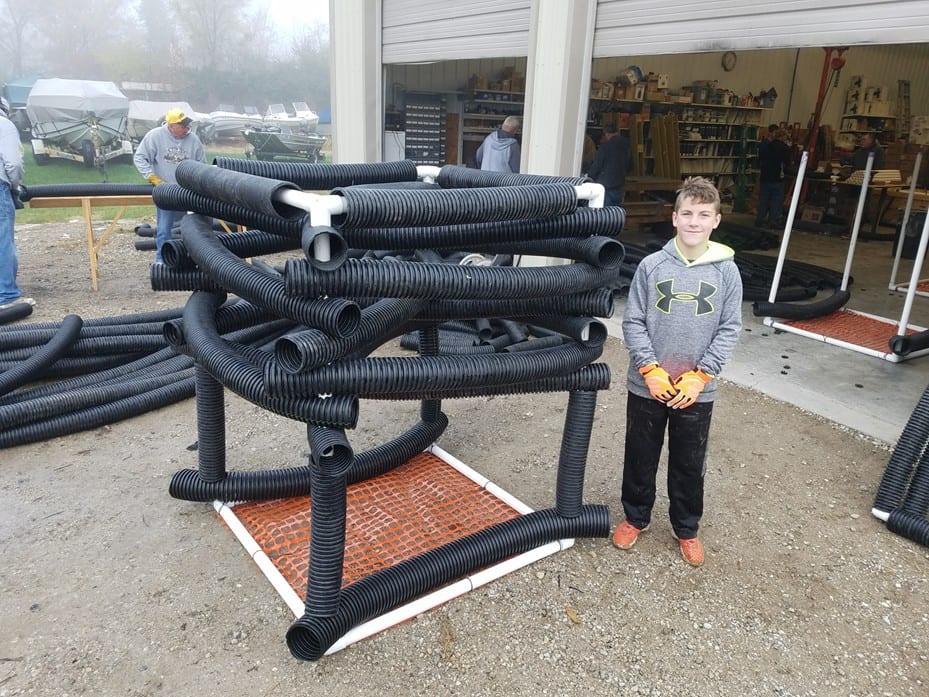 In addition to the cubes, LSFHA has built and installed 150 artificial stumps and a plant nursery. LSFHA has introduced more than 600 potted plants complete with herbivore exclosures. Fluctuating water levels has made establishment of founder colonies a challenge, but not be deterred, LSFHA will be using floating islands to establish seed banks in the future.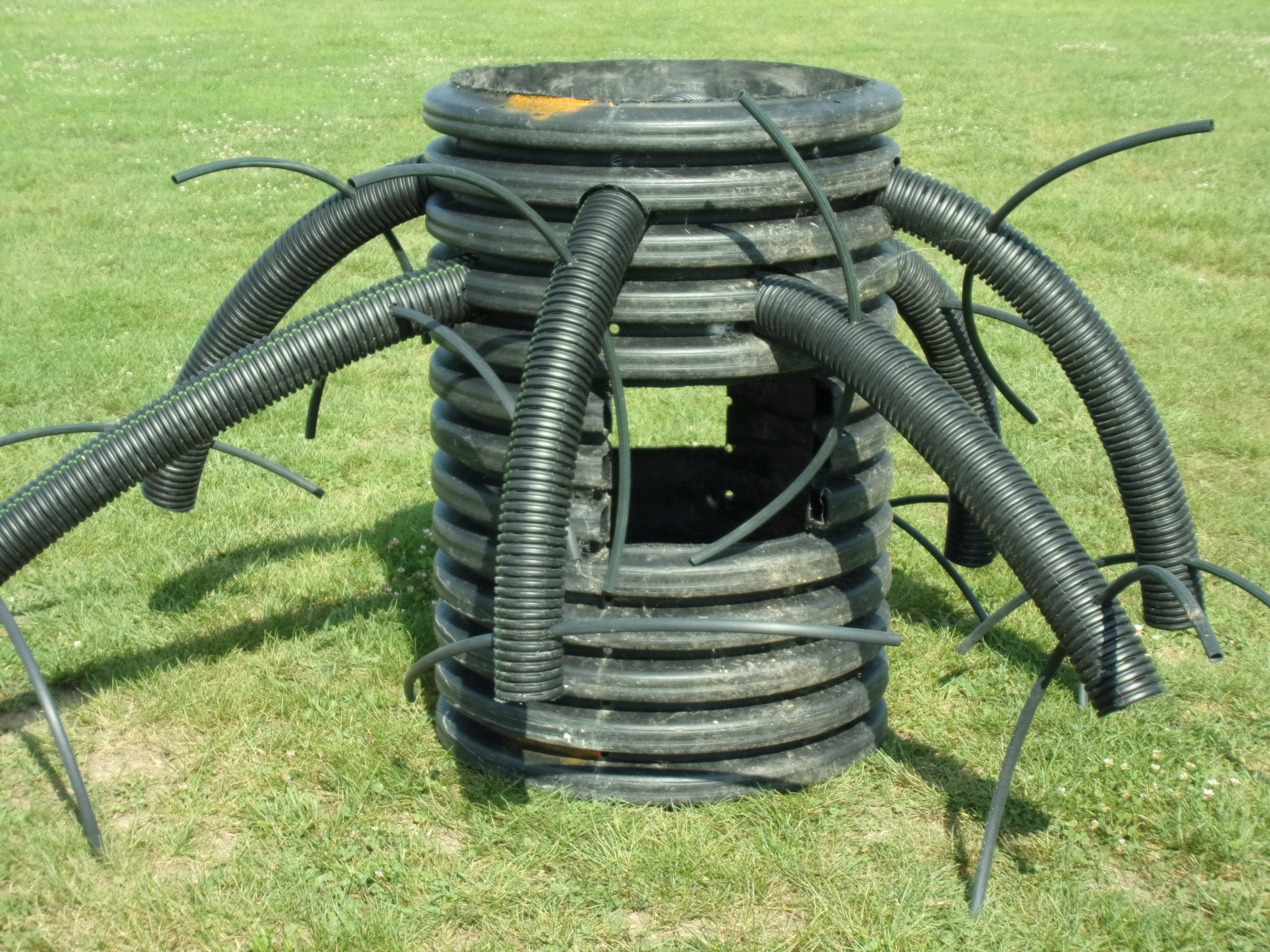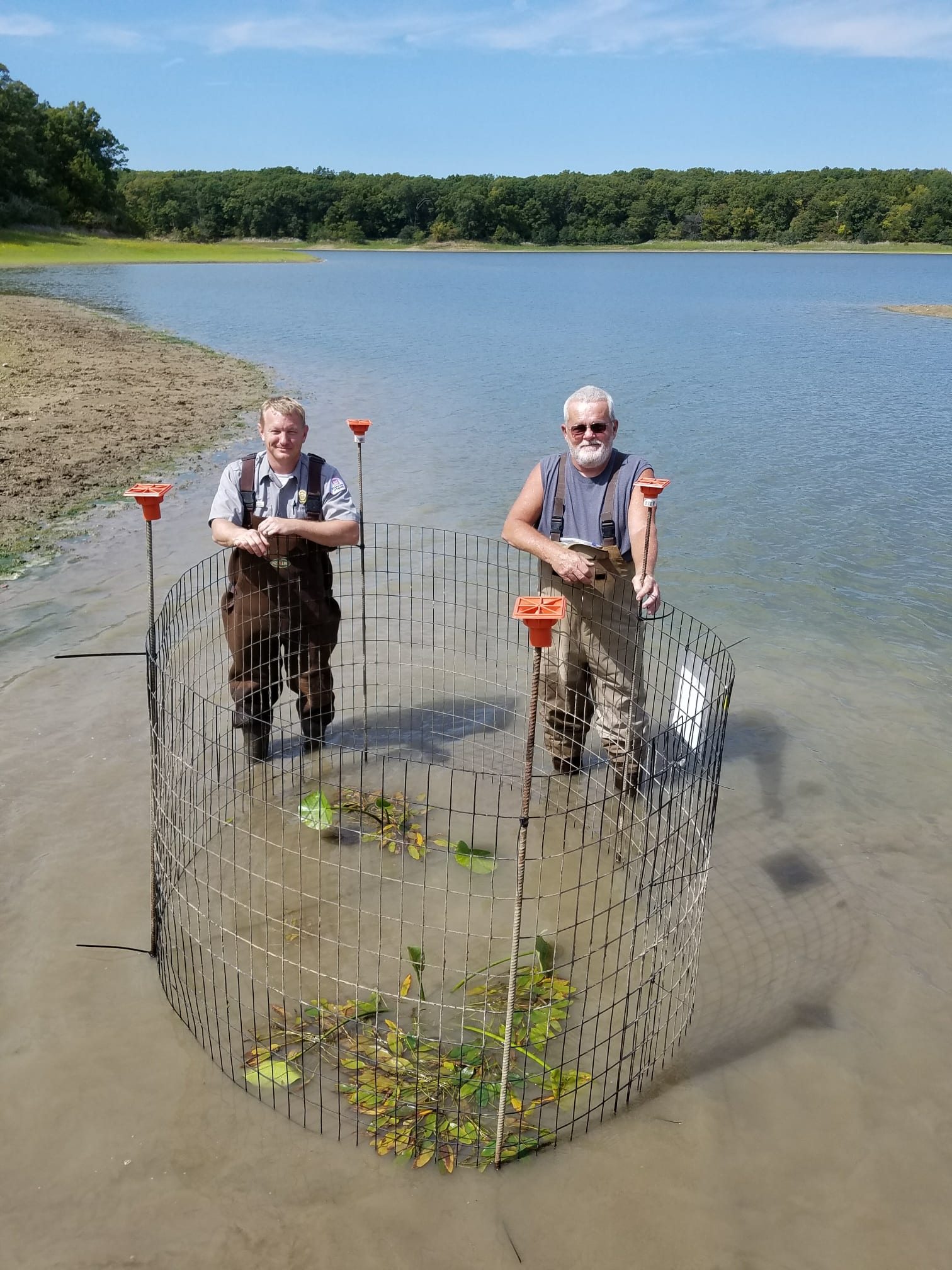 More than 12,000 linear feet of eroded banks have been stabilized using rip rap.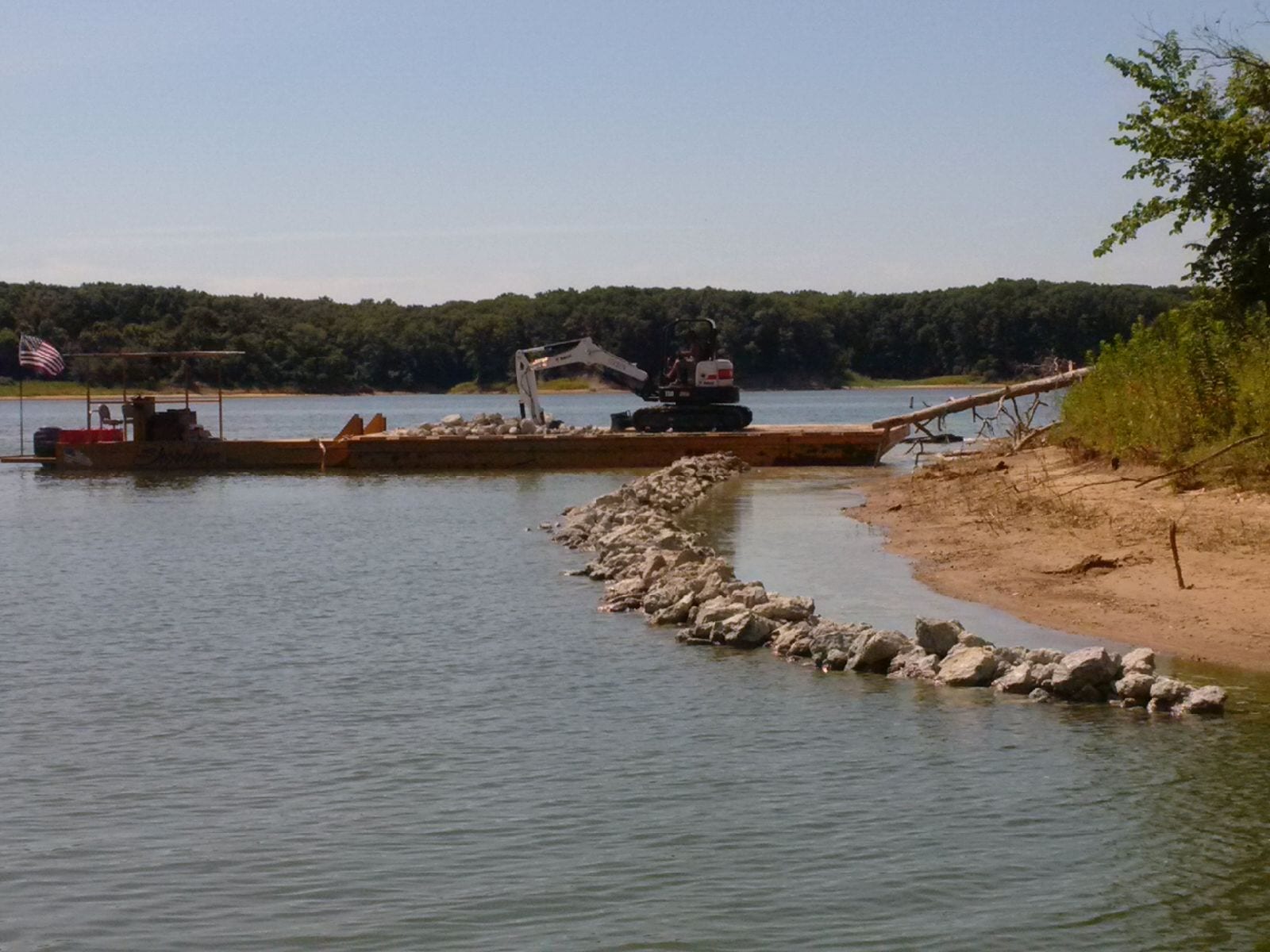 LSFHA holds an annual Ducks Unlimited-style banquet to raise funds for their ongoing restoration efforts. The 2019 banquet attracted more than 100 people, including local and state notaries, and raised more than $20,000. COVID-19 resulted in cancelling the 2020 banquet. LSFHA will be hosting the 2021 Reservoir Fisheries Habitat Partnership/Friends of Reservoirs Annual Meeting. A banquet and fundraising raffle/auction will be held at that meeting with proceeds going to Lake Shelbyville habitat restoration efforts.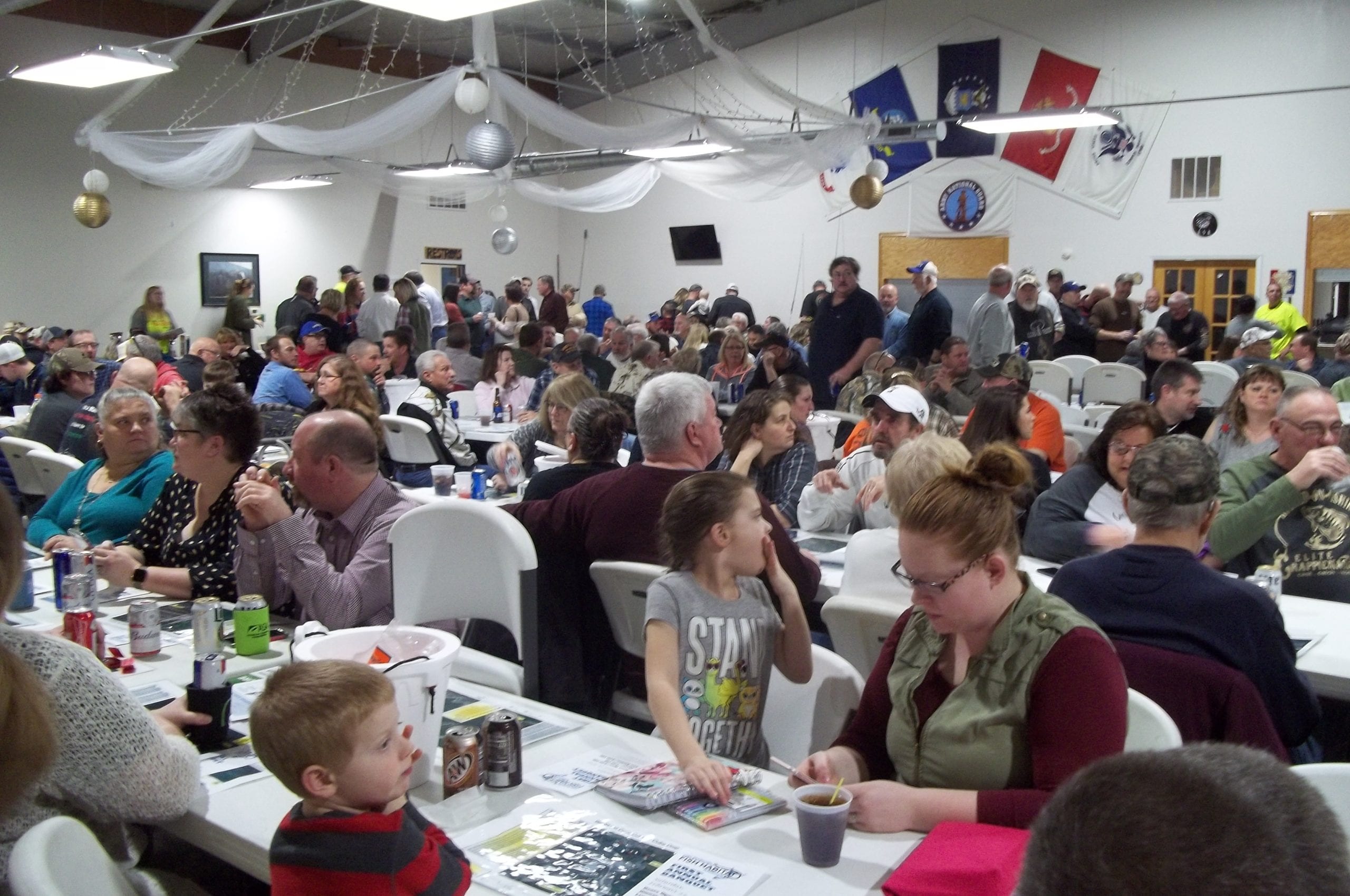 Conservation is a multigenerational challenge. LSFHA alliance includes Boy Scouts in their aquatic plant restoration program and recently had a cube build at a local elementary school.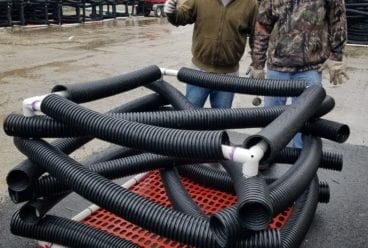 From Effingham Radio: https://www.effinghamradio.com/2020/03/05/lake-shelbyville-fish-habitat-improvement-day-2/ The U.S. Army Corps of Engineers, Illinois Department of Natural Resources and Lake Shelbyville Fish Habitat Alliance will place 200 artificial structures into Lake Shelbyville on […]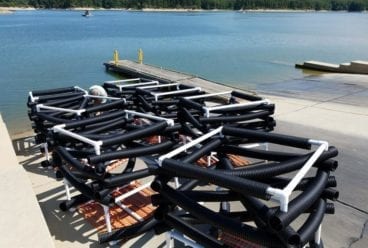 Check out the latest video from the Lake Shelbyville project. Staff from Illinois Department of Natural Resources, U.S. Army Corps of Engineers and numerous volunteers are placing modified Georgia Cubes […]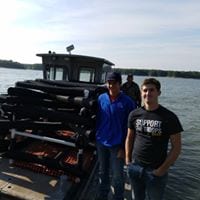 Shelbyville Lake is getting much-needed fish habitat thanks to a concerted effort by groups of local anglers, staff from the Illinois Department of Natural Resources and the U.S. Army Corps […]