Status
Completed December, 2016
Location
Central Illinois
Grants Received
$20,000
Total Budget
$71,000
Friends Group
Friends of EverBloom
Evergreen Lake was constructed in 1971 as a supplemental water reservoir for the City of Bloomington, population 74,975, as well as for recreational use. It was formed by an impoundment of Six Mile Creek upstream of its junction with the Mackinaw River. Currently, the lake has a surface area of 900 acres, 22.5 miles of shoreline, a maximum depth of 53 feet, a mean depth of 22 feet, and a storage volume of 15,480 acre-feet.  In 2005, the City of Bloomington contracted to determine the sediment load and its causes entering Evergreen Lake. Six Mile Creek and seven unnamed tributaries were surveyed for one to four miles outwards from the lake, until the start of the upper, actively managed, drainage systems, for a total of 16.3 miles of streambeds. The survey showed that the inventoried erosion sites contribute approximately 2,100 tons of sediment to Evergreen Lake per year. In addition, more than 90 percent of lake sediment due to streambank erosion originates within 4 miles of the lake. The survey estimated that 357 tons of sediment (18% of the total sediment load) is delivered annually from Tributary 2 and its 4.38 sq. mi. watershed.
The Evergreen Lake Watershed Plan recommended installation of six rock riffles constructed using 726 tons of RR-4 rock. Sediment loading of Evergreen Lake was reduced and habitat for stream fishes in Tributary 2 was improved.
A streambank erosion study completed by Midwest Streams, Inc. in 2005 reports a total of 357 tons of sediment delivered annually from this 4.38 sq. mi. tributary. The total annual sediment delivery from streambank erosion was estimated at 2135 tons, therefore Tributary 2 represents about 18% of the total streambank erosion above Evergreen Lake.
In order to reduce the sediment loading and improve aquatic habitat in the lower 3500 ft. under City of Bloomington ownership the proposal is to install a series of Rock Riffle Grade Control Structures. By constructing seven (7) Rock Riffles a riffle-pool sequence was restored in this degraded channel met several important goals:
Stream degradation was halted.
Stream was reconnected with the existing floodplain
Pool depth was increased
Riffles increased aeration of flow improving dissolved oxygen levels
Lateral bank erosion was reduced by slowing velocities in the pool areas
Effective bank height was reduced increasing bank stability.
Partners on the project included the City of Bloomington, McLean County Soil and Water Conservation District, Illinois Department of Natural Resources and McLean County Department of Parks and Recreation.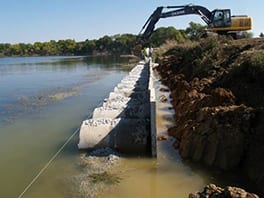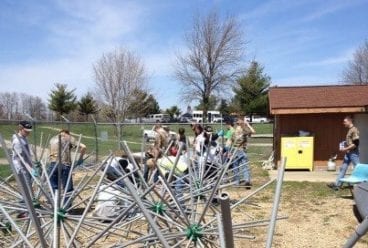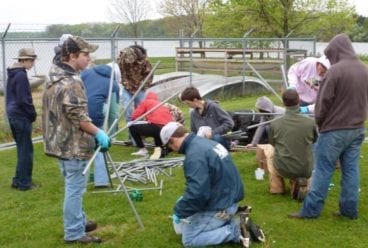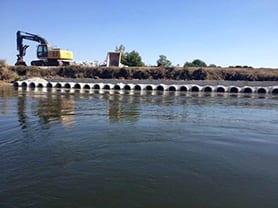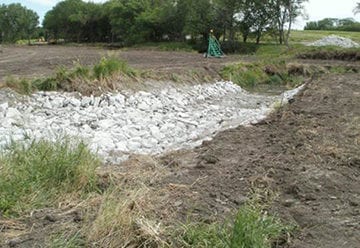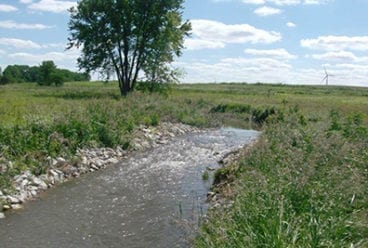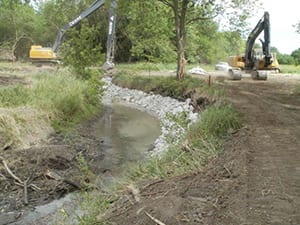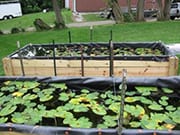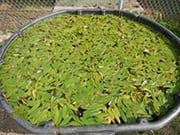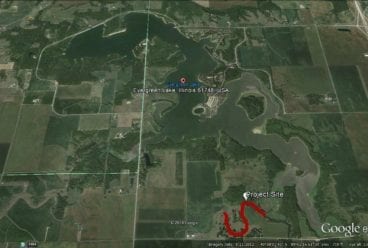 Waters in the ag belt are typically impaired by excessive nutrients and sedimentation. To correct these issues land-use practices need to be modified to reduce run-off from primarily row-crop acreages. Given that these impairments generally originate in the watershed, private-public partnerships need to be developed to connect landowners in the watershed with public partners downstream where the bulk of the water users reside.
Row crop agriculture is the primary land use in Central Illinois. Couple that with urban development in the watershed, land-use issues are the primary impediment to maintaining healthy aquatic systems.
The population of McLean County is 161,202. The two largest communities in McLean County are the City of Bloomington (pop. 74,975) and the Town of Normal (pop. 50,519). Both of these municipalities are in the southern part of the watershed.
Phosphorus and total suspended solids are listed as a cause of impairment for Evergreen Lake.  In order to address these impairments, a watershed plan was developed (http://web.extension.illinois.edu/lmw/downloads/22857.pdf).  A watershed committee meets on a regular basis to discuss issues in the watershed and projects that are being completed.
Evergreen also is impaired by invasive and exotic aquatic plants.
Friends of Reservoirs awarded Friends of EverBloom a $1000 Small Projects Grant to construct plant nurseries needed to reestablish native aquatic vegetation in Evergreen. FOR also provided $20,000 to help fund the streambank stabilization project to help reduce nutrient and sediment inflows.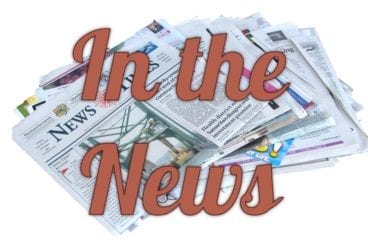 The public is being asked for its input when it comes to improving the City of Bloomington's water supply. The City asked for public feedback on the May draft of […]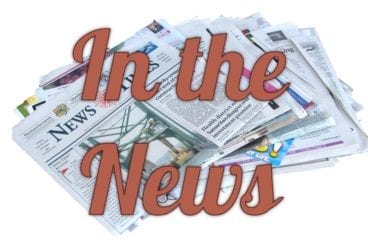 Nestled in the county that in 2020 produced the most corn and the most soybeans in the nation and is host to the state's primary farm organization, Bloomington-Normal is closely identified […]