Status
Ongoing
Estimated Completion
2022
Location
William H. Harsha Lake, Ohio
Grants Received
$40,000
Total Budget
$519,918
Friends Group
Clermont Soil and Water Conservation District
Partners
U.S. Fish and Wildlife Service, Clermont Office of Environmental Quality, Ohio Department of Natural Resources, U.S. Environmental Protection Agency, Village of Williamsburg, Buckeye United Fly Fishers, Bethel Cub Scouts, Duke Energy Foundation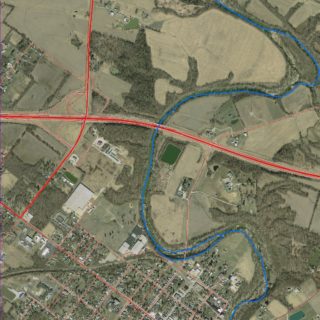 Clermont SWCD is working with the Village of Williamsburg, Clermont OEQ, U.S. Fish & Wildlife Service (USFWS), the Ohio Dept. of Natural Resources (ODNR) and U.S. EPA's Office of Research & Development (EPA-ORD) to construct and monitor an off-channel wetland system (~6-10 acre floodplain wetland complex) at a site located on the East Fork of the Little Miami River (EFLMR) to improve connectivity between the river and floodplain. The project site is located south of the Appalachian Highway (State Route 32) in Williamsburg, Ohio on two parcels owned by the Village of Williamsburg (4201 and 4203 McKeever Road). The site is approximately 11 miles upstream of the William H. Harsha Reservoir (East Fork Lake) constructed in 1978 for flood control, drinking water and recreation.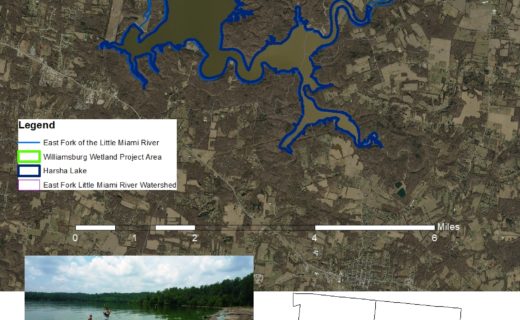 According to the Ohio Wetlands Association, 43% of threatened or endangered species live in or depend on wetlands. Diverse mussel species have historically thrived in the EFLMR and population studies have been documented by ODNR and Dr. Michael Hoggarth (Otterbein University). Mussel species that may benefit from habitat improvements include rayed bean (Villosa fabalis), a state and federally endangered mussel; the sheepnose (Plethobasus cyphus), a state endangered and federally endangered mussel; the fanshell (Cyprogenia stegaria), a state and federally endangered mussel; the pink mucket (Lampsilis orbiculata), a state and federally endangered mussel; the washboard (Megalonaias nervosa), a state endangered mussel; the snuffbox (Epioblasma triquetra), a state and federally endangered mussel; the ebonyshell (Fusconaia ebena), a state endangered mussel; the butterfly (Ellipsaria lineolata), a state endangered mussel; the elephant–ear (Elliptio crassidens), a state endangered mussel; the Ohio pigtoe (Pleurobema cordatum), a state endangered mussel; the monkey face (Quadrula metanevra), a state endangered mussel; and the wartyback (Quadrula nodulata), a state endangered mussel. In addition, the Ohio Biodiversity Database has records near the project site for Fawnsfoot (Truncilla donaciformis) state threatened, and a record for a mussel bed containing 12 different species. In preparation for the Williamsburg low-head dam removal, a mussel survey and relocation was conducted in 2018.
The project is within range of the shovelnose sturgeon (Scaphirhynchus platorynchus), a state endangered species and the goldeneye (Hiodon alosoides), also state endangered. In addition, the Ohio Biodiversity Database has records at the project site for the River Redhorse (Moxostoma carinatum), a state species of concern, in the project vicinity. Although not considered endangered, several native species, including smallmouth bass, longear sunfish, rainbow and orange-throat darters, large mouth, spotted and small mouth bass occur throughout the EFLMR watershed.
Plant species that may benefit from the project include Trifolium stoloniferum (Running buffalo clover). In addition, the Myotis sodalis (Indiana bat), Haliaeetus leucocephalus (bald eagles), Pandion haliaetus (ospreys) and Ardea herodias (Great Blue Heron) are also known to occur and migrate in the area and may indirectly benefit from improvements to water quality and the subsequent anticipated increases in macroinvertebrate and fish production.
Soil erosion and nutrient runoff from poor land use practices and unrestricted agricultural fertilizer applications threatened streams across Ohio, including the EFLMR watershed and Harsha Lake. Ohio EPA's recent assessment of the EFLMR identified segments of the main stem and major tributaries as impaired due to nutrient enrichment, sediment runoff and poor habitat.
In addition, estimates from the U.S. EPA-ORD watershed modeling indicate row-crops contribute approximately 70% of the nitrogen and phosphorus flushing into East Fork streams in the upper watershed above Harsha Lake. Excess nutrients fuel Harmful Algal Blooms (HABs) which have been increasing in frequency and intensity in William H. Harsha Lake since 2008. Harsha Lake is a drinking water source for +100,000 residents and serves as a $1.6 million regional hub for outdoor recreation. HABs have led to increased water treatment costs, public health advisories, beach closures and event cancellations.
Wetlands, referred to as the "kidneys of the landscape," not only provide critical habitat for fish and wildlife, but also absorb excess water and filter out pollutants. The project site is located within the Temperate Plains region where nutrients and siltation have been identified as leading sources of water quality impairment. Economic and watershed modeling done by U.S. EPA-ORD identified constructed wetlands as an efficient and cost-effective practice for reducing nutrient and sediment pollution in the upper watershed, above Harsha Lake. The Williamsburg Off-Channel Wetland utilizes an existing 3-acre reservoir, located in the Village of Williamsburg. The reservoir was formerly connected to a low-head dam on the EFLMR; the dam was removed and reservoir drained in 2018.
The former reservoir is adjacent to the EFLMR. Hydrologic and hydraulic modeling will serve as the basis for the floodplain wetland complex design. The preliminary project scope entails improving the connectivity of the river and floodplain by creating a gravity-connected inflow and outflow channel that will be cut through the existing berm in two locations. As originally planned, this improved connectivity would provide important spawning and nursery habitat for fish and other aquatic life. Additional funding for construction would provide value-added engineering to re-design the off-channel wetland in a way that would capture smaller storm events and improve nutrient removal capacity. Excavation of the 3-acre reservoir and riparian zone will be done to maximize volume capacity within the system, with a goal of achieving 1.5 days of residence time to provide water quality treatment. Benches will be created within the reservoir to create a meandering path for water flow and also to enhance fish and wildlife habitat. Additional excavation will occur within the floodplain (~1-3 ft.) to maximize the river to wetland connection for events above baseflow conditions. This design will ensure the wetland complex will not take away baseflow from the EFLMR. The project footprint, including the excavation of the reservoir and riparian zone, is approximately 6-10 acres, depending on the final design.
Goal #1: Improve floodplain connectivity and retrofit an existing 3-acre reservoir into a 6-10 acre off-channel wetland.
Objective #1a): Perform landscape survey, hydrologic and hydraulic modeling to determine the depth of excavation required to capture 15-22 storm events each year.
Objective #1b): Construct wetland complex with excavation of the floodplain and reservoir, including meandering channels to maximize residence time and contact with the floodplain/wetland surface and vegetation.
Schedule: Survey and modeling work: Winter/Spring 2021; Construction: estimated to being in fall 2021.
Goal #2: Quantify the water quality benefits provided by off-channel wetland systems.
Objective #2a): Measure flow, TSS, TN and TP during wet weather events utilizing ISCO Avalanche auto-samplers and a SUNA-V2 nitrate sensor. Equipment will be located at the inflow and outflow channels.
Initial monitoring for the project will take place over a 12-18 month period. This time frame may be extended by the EFWC.
Goal #3: Create quality habitat for threatened, endangered and recreational fish, mussels, plants, migratory birds and other wetland species.
Objective #3a) : Design elevation gradients and construct wetland pocket pools to diversify habitat features;
Objective #3b): Plant native species, approximately 2-3 acres, to improve riparian habitat.
Water quality monitoring is a significant component of this project. A key outcome of this work will be an assessment of the nutrient removal efficiency of the constructed wetland. Clermont OEQ works regularly with regional partners to manage a robust water quality sampling program for the EFLMR watershed, including an agricultural wetland demonstration project, funded through a Conservation Innovation Grant (CIG) (2012). The wetland was designed as a linear submerged vegetative bed with capacity to treat sediment and nutrient runoff from 80 acres of surrounding row-crop fields. Clermont OEQ's water quality analysis of the CIG project site has shown an approximate 30% removal efficiency for sediment and nutrient removal. Due to the proximity of the Williamsburg project site to the EFLMR and opportunities to improve storage capacity with additional excavation, project partners estimate a 40-50% reduction in the nutrient and sediment loading entering the system.
Water chemistry: Samples will be collected and analyzed initially over a 12-18 month period. This sampling period may be extended by the EFWC to better understand the wetland system. Sampling results will be shared with project partners and extended to other parts of the state through the H2Ohio Program.
Habitat Quality: Project partners will assess the quality of wetland habitat utilizing Ohio EPA's Rapid Assessment for Wetlands (ORAM). The ORAM assessment will take place after 1-2 growing seasons.
Biologic Monitoring: Project partners will work with ODNR's Division of Wildlife (Fisheries Management), Clermont OEQ and the Buckeye United Fly Fishers (BUFF) to monitoring river and wetland biology. Monitoring events will also serve as educational opportunities for local schools and scouts. ODNR will assist with fish community assessments. Clermont OEQ staff and BUFF members will also assist with biological assessments; Clermont OEQ staff are certified as Level III Credible Data Collectors (approved by Ohio EPA) and BUFF conducts biologic monitoring on other Ohio river systems on behalf of the state.
Outreach
The project partners recognize the environmental, social and economic benefits associated with the Williamsburg Project. Project partners will communicate updates to the surrounding communities at regularly scheduled Village Council and Township Trustee meetings. Clermont OEQ will report updates to the Clermont County Commissioners during regularly scheduled meetings. The East Fork Watershed Cooperative communicates with partners agencies through quarterly meetings and emails.
In the spring and summer of 2021 and prior to any construction work, project partners will conduct 1-2 stakeholder meetings to present the wetland design and gather community input. The Village Council meetings will be utilized to provide information and discuss the project with the community. A project website will be created and press releases will communicate any major project activities. As the project proceeds, Clermont SWCD will provide regular updates at Village Council meetings to discuss the project with council and community members.
The Buckeye United Fly Fishers (BUFF) will work with Clermont SWCD to coordinate education and outreach activities to promote the project's benefit for fish and wildlife. BUFF is a local nonprofit organization and an affiliate club of Fly Fishers International and a member of the Ohio Council of the FFI. BUFF is committed to the conservation and preservation of the local environment and members actively engage in local stream quality monitoring and local stream and habitat restoration projects. The Williamsburg project provides an excellent opportunity for BUFF to work with local schools and scout troops to educate youth about the importance of stream health and how wetlands support biological communities. BUFF will work with Clermont SWCD to hold a spring and fall event to engage volunteers in water quality monitoring and fly-fishing demonstrations.
Clermont SWCD will also work directly with the Clermont County Office of Public Information (OPI) to create a video documentary. The video documentary will include footage of the project site and construction, volunteer involvement and activities, and interviews with key stakeholders. The purpose of the video is to not only document the before and after conditions, but also to discuss the benefits and barriers associated with these types of projects and communicate lessons learned to help other communities with their watershed efforts. This project directly serves the East Fork communities of Clermont, Brown, Clinton and Highland counties; however, the outcomes of the project can impact communities and reservoirs across the Ohio River Basin looking for solutions to nutrient pollution and Harmful Algal Blooms. The partnership with ODNR and Governor DeWine's H2Ohio Program will help project partners deliver data and relevant information to communities across Ohio.
At the culmination of the off-channel wetland construction, a ribbon-cutting ceremony will be coordinated at the project site. All project partners and stakeholders will be invited to attend. Sponsors of the project will be invited to speak and take part in a photo op at the site. In addition, Clermont SWCD will conduct a tour of the project site specifically for community members, decision-makers and project partners, including USFWS, ODNR and the Buckeye United Fly Fishers.
Additional education and outreach will include project tours and habitat monitoring programs offered to local school districts. The Williamsburg School District will benefit from having an outdoor wetland laboratory to study and monitor. In addition, local scout troops have indicated an interest in assisting with biological monitoring and fly-fishing demonstrations to satisfy various merit badge requirements. Student and scout participation will be included in the project video documentary.
Water quality monitoring will be ongoing. Communication regarding the efficiency of the wetland will be shared with stakeholders, the EFWC partner agencies and administrators of the H2Ohio Program.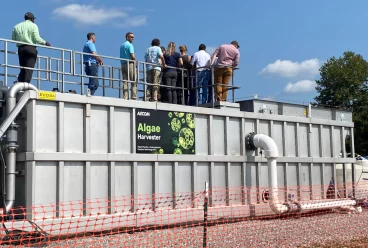 The FOR-sponsored project at William H. Harsha Lake will be celebrated on Thursday as part of the annual banquet of the Clermont Soil & Water Conservation District! Join the Clermont […]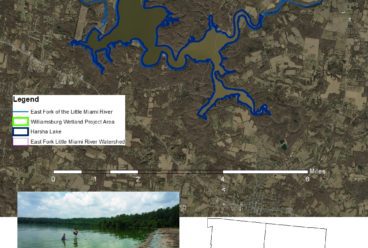 SANDUSKY — Ohio has carried out hundreds of projects to restore or create wetlands in Ohio as part of its H2Ohio clean water program, the head of the Ohio Department […]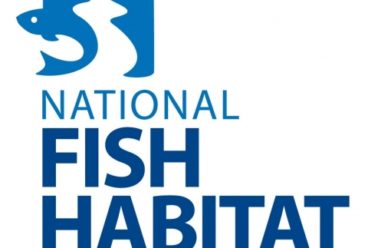 (Washington, D.C.) - The National Fish Habitat Partnership (www.fishhabitat.org) is excited to announce its "Waters to Watch" list for 2022. This annual list represents a collection of strategic conservation efforts […]
Donate Today
to support similar habitat projects