Chapter 12 : Habitat Management Decisions
12.1 Introduction
12.2 Problem Statement, Goals, and Objectives
12.3 Alternative Actions That Focus on Objectives
12.4 Scoring the Utility of Alternative Actions
12.5 Example: Choosing Action for Dealing with Sediment
12.4 Introduction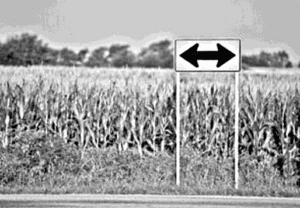 Habitat management requires clearly identifying the habitat problem, goals for remediation, and objectives to attain the goals and choosing alternative management actions to reach the objectives. Decisions about habitat management are sometimes simple. Some problems have an obvious solution, and given the same objectives, two decision makers probably could choose similar alternative actions. More often, the scope and complexity of some of the habitat problems can make choosing difficult. Thus, decisions can be complex, and multiple decision makers easily can disagree on alternative actions (Figure 12.1). Furthermore, the process by which alternative actions are chosen can be difficult to explain, which in turn makes it hard to communicate to administrators, partners, stakeholders, and the public. A structured approach to choosing among alternative actions can facilitate and clarify the decision-making process by decomposing a problem into elements that are easier to rationalize and convey.
Decision science is being applied increasingly in management of natural resources (Conroy and Peterson 2013). This section describes a basic structured approach to arriving at decisions about implementing management to address perceived habitat problems. More complex models for arriving at optimal decisions are beyond the scope of this section but are available from Conroy and Peterson (2013).

The approach considered here includes three major components. First, identify goals and objectives to address the perceived problem. Second, recognize alternative actions to achieve the objectives. Third, score alternative actions relative to meaningful criteria that estimate the utility of each action. Once utilities are quantified, the manager can select one or more actions to address the habitat problem.
Back to the Top
12.2 Problem Statement, Goals, and Objectives
The first step is a problem statement that includes a clear declaration of the fish habitat problem and the underlying problem to be solved. This first step may be completed in-house by agency personnel but may require participation by key stakeholders (section 13), ensuring that collectively key stakeholders have a say and ultimately concur on the problem statement. This first step guides the process toward clearly stating the problem to be solved and ensures that ultimately the right objectives are established to solve the right problem. In many cases the problem is poorly stated, if stated at all. This can lead to actions that may not address the problem adequately, may waste time and resources, and even may create new problems and conflict with partners and stakeholders.
Defining the problem can be more complicated than it seems. This is often where managers may struggle because they react to what they think the problem is. Trying to better understand why one thinks there is a problem may help elucidate the problem more clearly. This search may include questions such as (1) what are we observing that causes us to think there is a problem; (2) where is the problem happening and how; (3) when and why is it happening; and (4) how are fish affected by the problem. Based on the answer to these or similar questions it would be appropriate to write down a paragraph starting with something such as, "The following should be happening, but isn't." If the problem seems overwhelming, it may be necessary to break it down into several problems by repeating the process. If the problem consists of several related problems, it may be necessary to prioritize which problems should be addressed first.
A goal is the end that the manager wishes to achieve through the management action(s). Goals are broad-brush statements that identify the overall management purposes or a desired end state. For example, generic statements such as "maintain adequate habitat connectivity" or "improve water quality" are general statements (goals) about why management actions are undertaken. Habitat management goals should identify the desired state of the system once the identified problem is resolved. A goal itself does not have to include a measure or target necessarily but rather should provide a focus for steering toward a solution to the problem.

Objectives are more specific than goals and are ways of achieving the goals. There may be multiple objectives necessary to achieve a goal, and some objectives may include subobjectives. Whereas goals relate to the "big picture" or desired end result, objectives should be specific and measurable. An objective is not just a subgoal but provides a level of specificity necessary to implement broad-based goals fully. Structuring goals and objectives in a hierarchy can crystalize the nature of the problem and reveal any key objectives that may be missing or redundant.
Back to the Top

12.3 Alternative Actions That Focus on Objectives
Defining alternative actions involves identifying feasible management actions that have the potential to address the objectives. Various alternative actions are reviewed in earlier sections. However, managers should not be constrained by what has worked in the past; this is the time to be creative in crafting alternative actions. This is an exercise in which alternative actions are considered in terms of how well they might meet the objectives relative to various criteria. Some actions may work well to meet some criteria (e.g., feasibility criterion) but not meet other criteria (e.g., affordability criterion). Similarly, some actions may work well in some reservoirs to meet some objectives but not work at all in others; for many actions it may not be known how well they will work. Defining alternative actions may need to involve input from partners and stakeholders with a diverse expertise base.
Back to the Top
12.4 Scoring the Utility of Alternative Actions
Scoring is desired to narrow down the actions to a single action or to a set of actions that has the highest potential utility to meet the objectives. Scoring could be based on criteria considered important in the selection process. Table 12.1 lists a set of criteria that may help score the utility of alternative actions, but a smaller set or a different set of criteria may be more applicable depending on objectives and local conditions. The utility of each alternative action may be scored on, say, a 1 to 5 scale for each criterion, and a global utility value for each alternative action may be generated as the sum of the utility scores over all criteria scores. This global utility is then used to evaluate and select alternative actions. Some criteria for choosing among alternative actions may have different importance, as often occur with the affordability of an action. To account for such differences, summation over criteria to compute the global utility score may be weighted by differences in importance pre-assigned to each of the criteria (example in section 12.5).
Table 12.1. Example criteria for scoring utility of habitat management actions. Each criterion may be scored in a scale of 1-5 or other scale. See example in Table 12.2.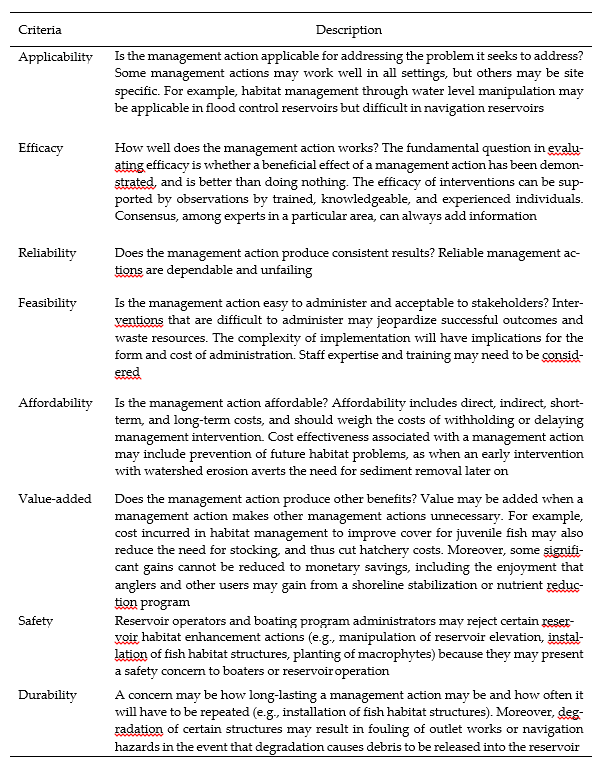 Scoring each management action according to each criterion involves predicting the performance and consequences of each action, based on an understanding of the treatments and of the ecological and social systems affected, in terms of the objectives and local potential for success. Sometimes models, whether conceptual, quantitative, or expert based, are used to predict outcomes and consequences. Most commonly the utility score is based on the opinion of a group of agency personnel and outside experts, with input from partners and stakeholders if pertinent.

This evaluation in some cases will lead clearly to an optimal alternative action. But in most cases the predicted outcomes may display a complex mix of trade-offs so that no one action is clearly optimal. The complexity of the decision can be reduced by identifying evaluation criteria over which alternatives do not differ and removing those criteria from consideration (e.g., if all alternatives are equally affordable, affordability can be removed as an evaluation criterion). Still, managers may be faced with a range of alternatives that have similar global utility, although they differ broadly in the utility score assigned to each criterion.
Back to the Top
12.5 Example: Choosing Action for Dealing with Sediment
The problem in this example is the excessive sediment that has accumulated in the embayment of a reservoir that receives a major tributary draining an agricultural watershed. The sediment accumulation has resulted in loss of depth (section 3), has increased turbidity and other associated water quality problems (section 5), and has isolated backwaters (section 9). Altogether, sedimentation has reduced the ecological and aesthetic value of the embayment and the quality of recreational fishing opportunities. The goal is to improve fish habitat by regaining depth and to reduce influx of new sediment to curb future sedimentation. Specific objectives to achieve this goal include (1) remove sediment in shallow nearshore areas and the delta that has formed in the upper reaches of the embayment at the mouth of the tributary, and (2) keep sediment out of the upper reaches of the embayment. Additionally, the agency will intensify efforts to participate in watershed partnerships to try to influence long-term relief through structural, nonstructural, and regulatory land management practices, but those efforts are not part of this example.
Alternative actions being considered to address objective 1 include (1) excavating the sediment with heavy equipment (section 3.7.3.1); (2) dredging sediment with a hydraulic dredge (section 3.7.3.2); and (3) consolidating sediment through an extended drawdown (section 3.7.3.5). Actions being considered to address objective 2 include (1) constructing sediment basins (i.e., retention ponds) in the immediate approach to the embayment (section 3.7.1.1); (2) constructing a subimpoundment in the upper reaches of the embayment essentially to partition the embayment and create a separate marsh (section 3.7.1.2); and (3) constructing a channel that during high discharge bypasses the upper shallow reaches of the embayment and discharges into deeper water farther down the embayment (section 3.7.1.3).
Criteria were those listed in Table 12.1. Not all the criteria were assigned equal weights. Affordability was given a higher weight (0.3) than the other seven criteria (0.1 each). Utility of the six actions for reaching the objectives, given local conditions, was scored in an ordinal scale from 1 to 5, where 1 = least effective and 5 = most effective. Utilities were assigned based on expert elicitation with a team of agency and outside experts. Variability in expert opinion could be assigned to each utility score and considered in the decision but is not included in this example.
The six alternative actions selected to meet the two objectives had different strengths and weaknesses relative to the eight selection criteria (Table 12.2). It is noted that strengths and weaknesses are site specific because costs, applicability, and other criteria for scoring the alternative actions vary with locality. In this example, the best method for achieving objective 1 was excavation with heavy equipment and for objective 2 was development of retention ponds. Conceivably more than one method may be implemented, or Table 12.2 may be rescored with a combination of methods as the treatment. Table 12.2 provides the transparency necessary to document to administrators, partners, and stakeholders how decisions were reached and provides a vehicle for amending decisions as upgraded knowledge for rescoring criteria becomes available.
Working through an organized and agreed-upon process for choosing an action provides a transparent framework by which decisions on alternative actions can be made. In most cases, it is the process of bringing the entire decision team along the same educational route that permits consensus building. The actions table and associated utility scoring provide a framework by which to organize discussions. Invariably, some members will become engulfed by the scoring process. It is important that the facilitator keeps a perspective on the level of uncertainty associated with selecting alternative actions.
Table 12.2. Scoring the potential utility of management actions. Each criterion (see Table 12.1) was scored from 1 to 5 by a team of experts relative to the six management actions considered to achieve the two objectives. The unweighted global utility represents the average score over the eight criteria; the weighted global utility represents the average score weighted by the importance weights listed in parentheses (weights were derived through consultation with agency personnel, partners, and stakeholders).
Become a Contributing Sponsor
Become a part of projects that need your support.