Chapter 14 : Stakeholder Engagement
14.1 Stakeholders as Partners
14.2 The Pitfalls
14.3 Need for Gauging Stakeholder Importance
14.4 Disclosure of Who Decides
14.5 Stakeholders as Supporters
14.6 Reservoir Association Establishment
14.7 Reservoir Association Structure
14.8 Reservoir Association Projects

14.1 Stakeholders as Partners
Many habitat management issues usually involve public resources, so the general public and various organizations have a vested interest in the outcomes of decisions. Natural resources also have multiple uses that can lead to competition among user groups and potentially conflict among groups. By implementing a stakeholder- driven process, managers can help those with vested interests understand how decisions are arrived at and participate in the decision-making process.
Stakeholders are defined here as groups, organizations, or individuals with some level of vested interest (Watt 2014) in the effects of fish habitat management. These groups generally include consumers (e.g., anglers, boaters, citizens interested in natural resources, lake associations); nongovernmental organizations (e.g., Bass Anglers Sportsman Society, The Nature Conservancy); natural resource management agencies (e.g., state or federal agencies charged with managing some aspect of a reservoir resource); political representatives, elected or appointed, to local, state, or federal governments; and economic interests such as local business or landowners potentially affected by activities associated with a reservoir. This list can change or shift in emphasis depending on the nature of habitat alteration. For example, changes to water regime may be of interest to a different set of stakeholders than installation of reefs and structures.

Stakeholders can be a vital part of the process of identifying management goals. While often it is possible to anticipate and identify goals without including stakeholders, involving them will typically assure a more comprehensive analysis of goals and also will help managers anticipate and, possibly, resolve or at least minimize potential conflicts among competing user groups. Finally, and perhaps most importantly, participation builds public support and ownership of the decision when the public is explicitly involved in the decision-making process (Watt 2014).
Back to the Top
14.2 The Pitfalls
Working with stakeholders can involve controversy as different stakeholders may have different objectives (Townsley 1998). Often stakeholders may be members of more than one group and, hence, are likely to have multiple objectives. For example, an angler with recreational objectives may also be a fishing guide or a bait-shop owner with economic objectives. Similarly, an agency staff member may also be an angler. The potential downside of including stakeholders with multiple group memberships is that a stakeholder may portray him or herself as representing one stakeholder group when many of his or her objectives may reflect the other group, which can lead to conflict. The benefit is that such an individual may facilitate communication and understanding among different stakeholder groups.

All stakeholders are not necessarily equal. For example, all decision makers are stakeholders in that they have a vested interest in the outcome of a management decision. However, not all stakeholders are decision makers. Decision makers often have the legal authority or accountability for carrying out a management action, such as providing funds or personnel and equipment. Thus, decision makers generally have greater responsibility and accountability than other stakeholders. So the question is, what stakeholders should be involved in the process and how much weight should the group be granted?
Back to the Top
14.3 Need for Gauging Stakeholder Importance
A preliminary stakeholder analysis may be used to prioritize people, groups of people, or organizations that significantly may influence or be influenced by the management decision. One approach is to develop a matrix to evaluate stakeholder importance (Freeman 2010). Potential stakeholders can be scored in a matrix based on the relevance of the potential management action to the stakeholder (i.e., likelihood that the stakeholder will be affected by a decision) and the perceived ability of the user to affect policy decisions (i.e., likelihood that the stakeholder will affect the decision) (Allen and Miranda 1997). Potential stakeholders that are strongly affected by a decision or have a strong effect on the decision are essential to involve in arriving at a decision. Conversely, it is not important to involve those that are not affected by the decision or have little or no influence on the decision.
The first step in creating such a matrix is to develop a list of potential stakeholders, including as many as possible without limiting the list to those initially perceived to be important. A useful set of questions one may ask to identify stakeholders might include (1) what groups potentially will be affected by the decision; (2) what groups often are involved in these decisions; (3) who has the knowledge of how the system works (e.g., biologists, engineers); (4) who has the legal authority to approve or implement management actions; and (5) who can potentially overturn the decision. Once the matrix is created, the rankings are examined to distinguish the stakeholders that are essential to involve in the decision-making process from those that are desirable (Table 14.1).
Table 14.1. Example stakeholder analysis matrix for a situation in which a state fishery conservation agency is considering sediment removal from a large arm of a reservoir as a way to improve fish habitat. To remove sediment, water level in the lake will be lowered for about 1 year. The matrix lists potential stakeholders and their likelihood of affecting or being affected by the sediment removal. Three groups ranked high on both counts, and four others ranked high on one count. These seven groups may be included as stakeholders and the others excluded or their input down-weighted. NGO = nongovernmental organization.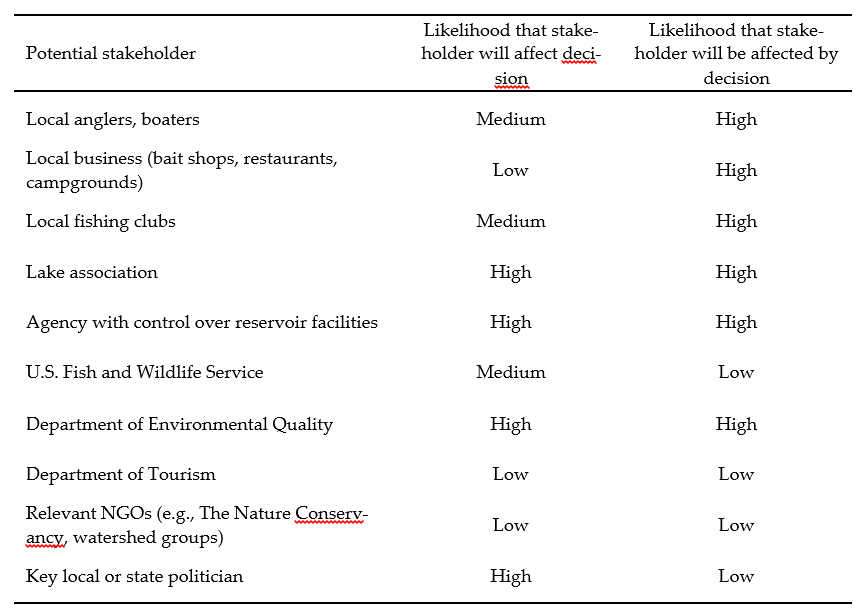 Back to the Top

14.4 Disclosure of Who Decides
An important consideration when working with multiple stakeholders is identifying clearly beforehand to all participants the way stakeholders interact in the process. This establishes ground rules by which everyone agrees to abide. Participants need to know before they commit to participate whether the final decision will be made by full consensus or simple majority or whether the participant is just playing a consultative role and the final decision will be made by an administrator after hearing from all stakeholders involved. The latter is the most common form of decision making in natural resource management. The advantages of this form of decision making is that the input can help the decision makers better understand the issues and stakeholders generally appreciate an opportunity to voice their opinions. The disadvantage is potential conflict as some stakeholders may expect that their wants and needs will be included in the final decision, and they may not be.
Back to the Top
14.5 Stakeholders as Supporters
Rarely can a single fishery management agency alone maintain or enhance fish habitat in a large reservoir. Even if it could, the agency will never be as successful as it would by enlisting help, such as from a reservoir association. The resources available to fishery management agencies are limited and unlikely to be sufficient to provide the comprehensive habitat maintenance or rehabilitation many reservoirs require. Access to local contacts can support and strengthen the manager's ability to navigate local political processes and enhance the odds of success. Managers seeking help in conducting habitat enhancement projects can obtain it from a reservoir association, which generally include homeowners, landowners, business owners, concerned anglers, and conservation-minded people. Increasingly, attention is being given to reservoir associations or "Friends of Reservoirs" groups. Having such an organization set up for each reservoir, cluster of reservoirs, or key reservoirs can enhance project success, expand the scope of projects, provide fundraising capability, and provide influence when needed. Such an organization also may serve as an informal advisory board if such a function is needed. An agency may need advice on how to implement a habitat management plan, particularly when various options are available. In many cases, habitat management could benefit from the diversity of opinions and experiences that a supporting group can contribute. Greater support, and thus likelihood of success, will occur when including reservoir associations in the planning process and incorporating their vision into the final product.

If such a group is not already in place, a valuable management practice is to help organize an effective group of supporters (IDNR 2010). With such an organization available, the reservoir manager creates the ability to initiate projects and programs of long-term significance that will lead to healthier fish habitat. An organized group can have more credibility and clout than any one individual. Such a group creates opportunities for public education and information. Also, the circle of influence and contacts of the individual members of homeowners' associations can be invaluable and make all the difference.
Back to the Top

14.6 Reservoir Association Establishment
To get started the manager may identify individuals or groups that may have an obvious connection to or interest in the reservoir's fish habitat, reach out to their leadership, gauge their interest, and try to get them to sign on as supporters. Then, if fitting, a public meeting may be organized to recognize supporters already on board and to garner more supporters (IDNR 2010). The public meeting may be advertised to target local groups that fish the reservoir, property owners, and other local groups interested in protecting the reservoir. Invite lakeshore residents, local fishing clubs, and conservation groups. It is also helpful to enlist the help of members of other reservoir associations in your area, if they exist, as members can provide valuable organization information based on their own experiences. Discuss the issues that are important to the group with a focus on habitat. Try to hone in on a goal that most participants can support and that will become the foundation for the organization. Assistance in creating a citizens' group can be obtained through contacting the Reservoir Fisheries Habitat Partnership (www.reservoirpartnership.org) and the Friends of Reservoirs Foundation (www.waterhabitatlife.org). Membership in these organizations can help with fundraising (offering a membership in a 501(c) (3) corporation) by providing a tax deduction for locally raised funds, technical assistance with projects, networking with other Friends of Reservoirs groups, and access to grants.
Back to the Top
14.7 Reservoir Association Structure
Ideally the organization will manage itself with only limited and occasional input from the reservoir manager. To this end the organization may elect a board of directors that will serve as a point of contact. For a large reservoir, the board of directors may come from different parts of the region. This strategy can help increase membership and can be a time saver when getting out information or organizing work projects. A set of bylaws may be drawn, including a mission statement. This will allow for smoother operation as the association becomes involved in important issues and meaningful projects (Lyden et al. 2006). The organization may wish to file the necessary papers required for a nonprofit organization, as this will allow the organization to become involved in fundraising activities and be eligible for grants and other funding opportunities. While funding can be important, volunteerism and commitment to a task are usually the most valuable assets (Lyden et al. 2006).

As needed, the organization may form committees to tackle the various functions, goals, and projects identified as important (Lyden et al. 2006). Most associations will have committees dealing with membership and different projects. It is important that committees are headed by devoted and enthusiastic people with a track record of getting the job done. A newsletter, website, and social media platforms are key to keeping everyone informed about activities, upcoming events, and other issues and topics that are of importance to the group, ultimately helping to maintain the group's support and passion for the mission. These vehicles are also great ways to educate the group about habitat management issues.
Back to the Top
14.8 Reservoir Association Projects
Various needs listed throughout this document require a greater workforce than the reservoir management crew has available. For example, assistance may be needed with mapping problem areas in the riparian zone and adjacent watershed to expand the watershed inventory outlined in section 2 and Table 2.1. Some basic monitoring may be conducted by members of the organization who spend a great deal of time at the reservoir, such as adjacent property owners. Projects such as installing fish attractors, transplanting aquatic vegetation, and seeding mudflats require workers and equipment not always available within fish management organizations. Last, reservoir associations may be able to organize the public and political support necessary to accomplish some habitat projects.
To be able to identify potential sources of sediment, nutrient loading, and pollution it is vital to have a good map of the riparian zone and adjacent watershed (sections 2 and 8). A geographic information system map may be obtained from or created by a government organization, but it is important to have the help needed to go out in the field to verify its important features, identify land uses, and update the map. It is valuable to note key sources of direct and indirect surface runoff and nutrient loading, such as wastewater treatment plants, septic systems, storm sewers, drainage ditches, agricultural drain tiles, parking lots, new construction, road building, agricultural row-crop fields, and feedlots. The assessment also may identify areas of special concern around the shoreline that need remedial action. Items may include eroding shorelines, straight pipes into the reservoir, areas of dense vegetation, or areas devoid of vegetation. Note well-manicured lawns that may be heavily fertilized and areas of greenness that may reveal failing septic systems. Ongoing construction, dumps, livestock access to the water, open burning, erosion, and any other activity associated with sediment or nutrient loading could be noted in this assessment. Ground-truthing watershed inventories is an excellent activity for getting organization members involved in meaningful projects.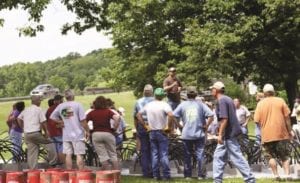 A simple means of assessing a reservoir's water-quality status is by monitoring the water clarity with a Secchi disk (section 5.4). Over a period of years, temporal and spatial trends of water clarity within the reservoir will develop and will reflect changes in water quality over time. Other water-quality needs may be handled by the organization if provided with equipment and training. A "lake watch" program can be set up in which volunteers monitor water clarity, temperature, and dissolved oxygen. Often with a little training and provision of proper equipment volunteers can provide a valuable service and free up agency staff to focus on other tasks.
Most reservoirs benefit from fish habitat enhancement or restoration programs if suitable habitat is not available or is degrading. Such programs sometimes require introduction and maintenance of a large volume of structure. Access to volunteers already organized into a reservoir association can facilitate and even expand existing programs (Figure 14.1).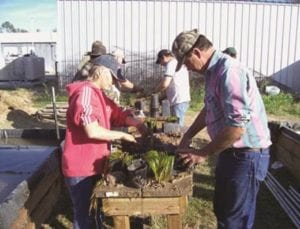 Aquatic plant management requires control of undesirable aquatic plants (e.g., nuisance, invasive, or excessive aquatic plant growth) or establishment of desirable species. Both of these activities may require substantial help from outside groups (Figure 14.2). This is particularly true for projects designed to establish aquatic plants because facilities and personnel are needed to grow propagules, and a large number of volunteers may be needed to plant them and build exclosures (section 11).
Back to the Top
Become a Contributing Sponsor
Become a part of projects that need your support.