RESERVOIR FISHERIES HABITAT PARTNERSHIP
Annual Meeting; 5-7 October 2018
Texas Freshwater Fisheries Center
Athens, TX
 The Reservoir Fisheries Habitat Partnership (RFHP) and Friends of Reservoirs will be holding their 9th Annual Meeting at the Texas Freshwater Fisheries Center in Athens, Texas. The meeting will be held Friday through Sunday, 5-7 October, 2018. Lunch will be provided to the participants on the 6th and 7th; an Awards Banquet will be held on Saturday evening. We have reserved a block of rooms at the Best Western ($82.99/night + tax) in Athens for the RFHP meeting on October 4th – 7th at TFFC. The rooms are listed under "Friends of Reservoirs". Hotel staff encourages everyone to make their reservations before September 4th as the rate will go up after that date. Rooms can be canceled with no charge until the scheduled day of arrival at 4 p.m. The hotel is located at: 1814 State Highway 31 E, Athens, TX 75751. Hotel phone: 903-292-1750.
A highlight of this year's meeting will be a half-day workshop on reservoir habitat restoration Best Management Practices. Topics to be covered include:
Permitting
Structure
Nuisance aquatic vegetation
Establishing native vegetation
Sedimentation
Nutrient control
Shoreline Stabilization
Funding
Instructors include many of the individuals that contributed to the Reservoir Habitat Management Manual https://www.friendsofreservoirs.com/science/best-management-practices-manual/ .
A $100 registration fee will be charged onsite to defer travel costs of workshop speakers. Friends of Reservoirs will provide free rooms and registration for Friday and Saturday nights to FOR members. Contact Jeff Boxrucker if you are requesting gratis rooms and registration (jboxrucker@sbcglobal.net). Individuals need to make their own room reservations and reserve on their own credit cards; those receiving gratis rooms will have the bill transferred toRFHP master upon arrival at the meeting.
Transportation

Fly into DFW (TFFC is about 1.5 h northeast of DFW
TPWD may be able to provide transportation from airport to hotel, if arrival schedules can be coordinated
Copy Dave Terre (terre@tpwd.texas.gov) and Jeff Boxrucker (jboxrucker@sbcglobal.net) with itinerary

Meals

Hotel has onsite restaurant for breakfast
RFHP will provide lunch on Oct. 6 and 7
Awards banquet on Oct. 7 (evening)
Dinner on attendees own on Oct. 5
Schedule at a glance:
October 5 RFHP Business Meeting                                                  1:00-5:00
October 6 Reservoir Habitat Restoration Workshop                   8:00-12:00
Lunch (provided by RFHP onsite)                                                 12:00-1:00
Technical Session                                                                                1:00-5:00
Banquet                                                                                                 6:00-9:00
October 7 Technical Session                                                             8:00-12:00
A more detailed program will be made available as plans develop.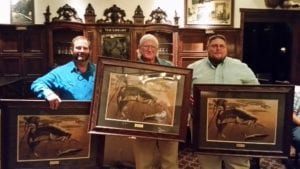 2016 Friend of Reservoirs Award Winners: Earl Conway-Elephant Butte project; Tom McDonough-Lake Livingston project; Tom Lang-Lake Wichita project