Status
Ongoing
Estimated Completion
2018
Location
Des Moines, Iowa
Grants Received
$40,000
Total Budget
$1,070,936
Friends Group
Central Iowa Anglers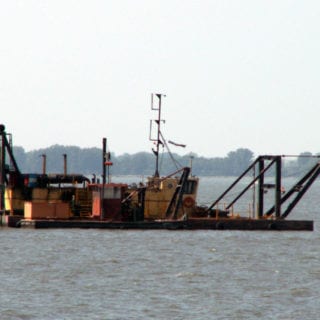 Easter Lake is a 178-acre publicly-owned reservoir located in highly urbanized southeast Des Moines, Iowa. Completed in 1967 for recreation, Easter Lake provides numerous day uses to the Des Moines area, including fishing. The location of Easter Lake, in the midst of suburbia, and its potential to draw thousands of Iowans from the local area and beyond make it a prime target for renovation.
Notably, boat fishing is not a popular activity, and shoreline fishing is limited in comparison to other recreational activities. Easter Lake has only one boat ramp and one fishing pier, but some shoreline access. Trails do not  completely encircle the reservoir and connection to city sidewalks is limited, making access to the park and reservoir somewhat difficult. In addition, only one parking lot has restroom facilities. A renovated Easter Lake could bring not only economic and recreational benefits to the area, but also provide quality outdoor opportunities to an otherwise highly urban area of Iowa's largest population center. This is an important social aspect of lake renovations, enriching the lives of visitors and developing new stewards for Iowa's natural resources. For a complete project description go to: https://easterlake.org/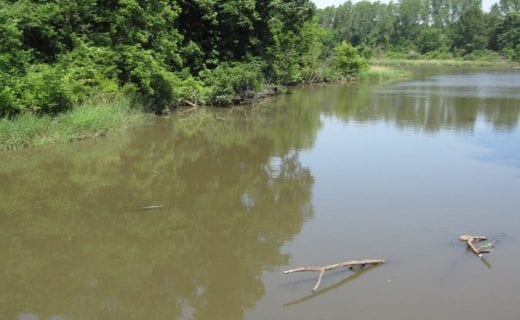 Easter Lake is a reservoir ripe with potential.  Located in the heart of Iowa's largest urban center, the reservoir and its surrounding park can provide close-to-home fishing and outdoor recreation opportunities for the fastest-growing demographics in the state.
Urbanization in Iowa, like other states, is a growing trend, and urban and suburban residency is directly related to reduced fishing participation.  Providing backyard fishing opportunities and quality outdoor experiences is essential for engaging new anglers.  Easter Lake currently draws relatively low numbers of recreational users and relatively low expenditures, but wise development of the reservoir could drastically increase visitation.  The failing fishery, a result of poor quality habitat, could become a great draw for family fishing in the community with lake and watershed renovation.
Easter Lake has become highly impaired through a long history of sedimentation from intensive row-crop farming in the once-rural 6,380-acre watershed, to the flashy nitrogen and pollutant inputs of suburbia and imperviousness of urban Des Moines. Watershed area remaining in agriculture is already being planned for urban development. The watershed even includes the tarmac of Des Moines International Airport, which contributes oils and other chemical pollutants to the area's runoff.
Easter Lake now features 15.1% of completely inaccessible surface area (<2 ft), shallows with a mucky silt bottom highly susceptible to wind resuspension; 36.7% of the lake is less than 4 feet deep. According to U.S. Geological Survey, sedimentation has resulted in the loss of approximately 30% of the original lake volume, or 263,197 cubic yards of sediment. Maximum depth is now 21.2 feet, with an average depth of 7.2 feet (Iowa DNR, Lake Mapping Program 2012). Sediment and phosphorus continue to be the primary components of runoff, with new construction and streambank erosion contributing fine particles to the reservoir, adding to a long phosphorus legacy and silted-in tributary mouths. Turbidity is further exacerbated by the foraging of Common Carp and recurring algae blooms. Nitrogen is another major runoff component, washed in as nitrate and ammonia from manicured lawns and animal waste.
The main tributary, Yeader Creek, has also become more "flashy" due to high imperviousness in the watershed and urban stormwater inputs. Easter Lake, once on the 303(d) list, now has an approved Total Maximum Daily Load for phosphorus and sediment and is considered impaired for primary contact recreation and aquatic life uses.
Recent habitat sampling revealed a reservoir with homogeneous habitat, including nearly 60% silt/muck substrates and limited aquatic plant growth. Plant species included pondweeds  and coontail, as well as invasive curlyleaf pondweed and reed canarygrass along the shoreline. The reservoir shoreline is approximately half vegetated with brush/herbaceous vegetation and half manicured lawn. A few riprapped areas have been filled in with sediment, and minimal woody debris is present.
The lake bottom is typically low in oxygen, especially during summer stratification.  Summertime Secchi depth averages 2.2 feet from 2010-2014, and E. coli remains an issue.  In addition to poor water and habitat quality, he reservoir and surrounding park tend to attract littering and safety challenges.
Recent fish sampling shows high numbers of stunted Bluegill, White and Black Crappies, 12-14″ Largemouth Bass, and abundant Channel Catfish. Harvestable size Largemouth Bass (>15″) were rare.  Hybrid Striped Bass were stocked in 2012, but were not detected during 2015 surveys.  Gizzard Shad and Common Carp were highly abundant and are targets for elimination during renovation.
Easter Lake will be a sustainable resource that provides diverse outdoor recreational activities for visitors. Public education and community involvement will be the driving force behind improving watershed management techniques and developing a healthy ecosystem.
The proposed habitat project will encompass but a portion of the necessary work to renovate Easter Lake: the addition of a diverse array of fish habitat, both natural and artificial, and reduction of shoreline erosion to support the renewed fish community and fishery. The restoration process provides a unique opportunity to work in the lake basin (during drawdown) and accomplish one of the project's many goals, to improve fish habitat. The objectives of this habitat project are to establish quality fish habitat in Easter Lake that supports natural spawning and recruitment, provides nursery habitat for young fish, and provides a balance of cover for forage fish and hunting opportunities for piscivorous fish. This will be accomplished by creating extensive gravel/sand beds for panfish spawning, armoring shorelines and littoral zones with rip-rap and broken concrete to reduce shoreline erosion and provide cover for small fish and spawning habitat for Channel Catfish, and sinking a variety of rock/brush and cedar tree structures to provide cover and aggregate fish. We intend to install 1000 linear feet of gravel/sand spawning beds, 39 anchored cedar tree structures, 9 rock piles, 3 rootball/rock structures, 25 rock/hardwood tree structures, 15 concrete culverts, and 14,441 tons of riprap for shoreline restoration; these enhancements will be accomplished during drawdown with heavy machinery, paid staff labor, and volunteer labor. The work will most directly affect species oriented to physical structure, including Largemouth Bass, Black Crappie, and Bluegill, all of which are primary target species in the Easter Lake fishery. Channel Catfish are the third-most popular species and will also benefit from this work. To a lesser extent, other target species including Hybrid Striped Bass and Walleye will benefit during the post-stocking phase by the provision of cover until they grow large enough to inhabit openwater.
The proposed habitat project is part of a comprehensive lake restoration plan which addresses the various sources of impairment in Easter Lake, including nonpoint source pollution from the watershed and stream network, both nitrogen and phosphorus, sedimentation and internal phosphorus loading, and lack of structural and substrate diversity.
Furthermore, the project addresses needed amenities and issues to provide a quality outdoor experience to visitors, including the addition of bathroom facilities, development of a complete hiking trail which connects with the city sidewalk system, and reduction of littering/graffiti. Led by the Polk County Conservation Board which owns Easter Lake Park, a committee was initiated in 2007 to develop watershed and reservoir improvement plans for Easter Lake. A Technical Advisory Team composed of representatives from Polk County Conservation Board, City of Des Moines, Iowa DNR, Iowa Department of Agriculture and Land Stewardship, Iowa State University, and Natural Resources Conservation Service met between 2007 and 2013 to discuss logistics and planning. The project is also guided by a local steering committee composed of watershed landowners (i.e., the Watershed Council).
These plans were finalized in fall of 2013, including critical water quality work in the reservoir, watershed improvements, and recreational access improvements (https://easterlake.org/). Watershed improvements include a major rainscaping effort on publicly and privately-owned properties through cost-share and financial incentive programs and a woodland restoration project. During the first three years of the watershed project, 103 practices were installed. The popularity and demand of rainscaping practices, especially soil quality restoration (e.g., after construction) and permeable pavers, have resulted in waiting lists of citizens wanting to participate, which is further used to leverage cost-share funding. In-lake improvements include hydraulic dredging, shoreline stabilization, and fish renovation. Detention ponds above the reservoir will also be improved through dredging, shoreline resculpting and stabilization, and vegetation. Project goals include 1) improve water quality throughout the watershed by implementing management practices, 2) recommend Des Moines metro residents and visitors to the natural amenities of Easter Lake and its surroundings, 3) educate the public about water quality and increase awareness of how they affect the watershed, and 4) increase the aquatic health and aesthetic value of Easter Lake.
Latest News from Easter Lake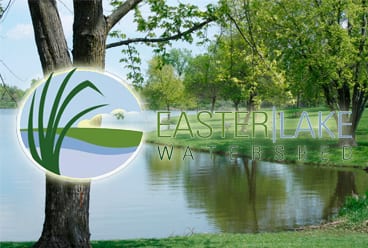 The Easter Lake restoration project has completed its hydraulic dredging stage and was drawn down during winter 2016-2017.  This major milestone in the project timeline was featured on several news […]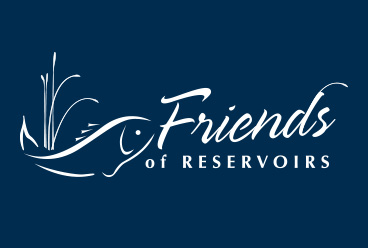 "The long process of improving conditions at Easter Lake in southeast Des Moines continues Wednesday with a ceremony marking the start of the lake's final drawdown." Continue reading at WHOTV: […]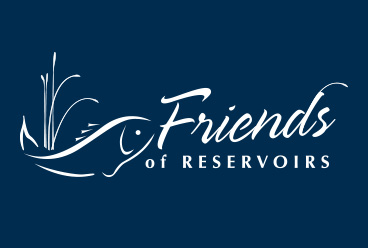 Join the Easter Lake Area Neighborhood Association and the Easter Lake Park Homeowners Association for a presentation and update about the Easter Lake Watershed Project. Project Coordinator, Julie Perreault will […]
Support Easter Lake
A sustainable resource providing diverse outoor recreational activities, and a healthy ecosystem.
Bronze Sponsors
Central Iowa Anglers
Polk Soil and Water Conservation District