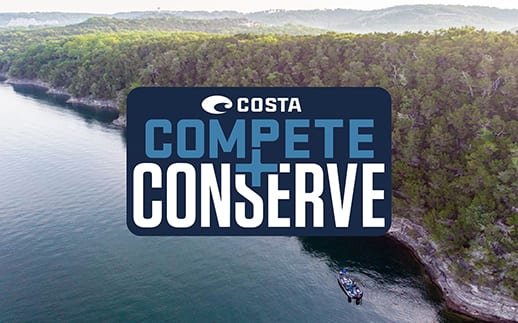 Costa Announces Bass Fishing Contingency Program
DAYTONA BEACH, Fla. – Costa Sunglasses is excited to announce Costa Compete + Conserve, a new contingency program for bass anglers who wear Costa sunglasses and compete in select tournament trails.  Anglers who compete in a sanctioned tournament and post the highest-place finish will be eligible to receive a cash payout. In addition, Costa will make a corresponding cash donation to one of five program conservation partners on behalf of the angler.
Anglers and Conservation will both benefit from this tournament bonus program.
Registration for the program is FREE. All you have to do is own a pair of Costa Sunglasses to qualify. Upon registration anglers just need to compete in a sanctioned fishing tournament, wear their Costa Sunglasses during competition, and have them visible on the weigh-in stage to be eligible for payouts.
The highest placing registered participant in a Costa Compete + Conserve supported tournament will be awarded a cash bonus, and will choose a pre-approved conservation organization to receive the Costa donation upon verification of eligibility requirements.
"Costas are the best sunglasses in the world and now anglers are going to get paid to fish in them. The payouts are incredible, you don't have to win to get paid, and on top of all that, this program gives money to organizations that conserve our waterways. It's a win-win for the whole fishing community," said longtime Costa titled pro Casey Ashley.
Tournament trails eligible for Compete + Conserve include the Bassmaster Elite Series, Major League Fishing Bass Pro Tour, MLF Big5 Tackle Warehouse Pro Circuit, MLF Big5 Toyota Series, Bassmaster Opens, Bassmaster College Series, MLF Big5 College Series, and the Bass Pro Shops U.S. Open National Bass Fishing Amateur Team Championships.
Conservation Partners for this environmentally friendly contingency program include Friends of Reservoirs, The Bass Fishing Hall of Fame, American Rivers, the National Fish & Wildlife Foundation, and the Johnny Morris Foundation.
"Costa has a longstanding history in the bass fishing community and we wanted to go even further to solidify that commitment to our tournament Bass Anglers. Coupled with the opportunity to give back to numerous conservation efforts, something that is part of our brand DNA, we jumped at the chance to create this program. To be able to support a crowd that has supported us over the years and to make a difference while doing it, creating the Costa Compete + Conserve Contingency program was a no-brainer for us." said Evan Russell, Costa Pro & Ambassador Manager.
For more information on the official program rules, eligible tournament trails, Conservation Partners, or to get registered with your Costa sunglasses please visit www.costacompeteandconserve.com.
For more information about Costa Sunglasses and its collection of award-winning sunglasses, visit http://www.costadelmar.com.
About Costa Del Mar
As the first manufacturer of color-enhancing all-polarized sunglass lenses, Costa combines superior lens technology with unparalleled fit and durability. Costa has made the highest quality, best performing sunglasses and prescription sunglasses (Rx) for outdoor enthusiasts since 1983, and now its product portfolio includes optical frames. Costa's growing cult-brand status ties directly to its mission to provide high-quality products with a focus on sustainability and conservation as the company works hard to protect the waters it calls home. From the use of sustainable materials to its Kick Plastic initiative, IndiFly Foundation, and strong partnership with shark research organization OCEARCH, Costa encourages people to help protect the Earth's natural resources in any way they can. Find out more on Costa's website and join the conversation on Facebook, Instagram, or Twitter at @CostaSunglasses.